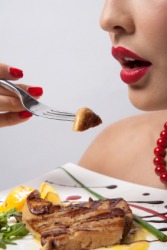 This woman is a carnivore.
noun
The definition of a carnivore is a person or animal who eats meat.

A man who eats steak is an example of a carnivore.
---
carnivore
any of an order (Carnivora) of fanged, flesh-eating mammals, including the dog, bear, cat, and seal
any animal that consumes other animals
a plant that ingests small animals, esp. insects
Origin of carnivore
Fr: see carnivorous
---
carnivore
noun
Any of various mammals of the order Carnivora, including the dogs, cats, bears, weasels, raccoons, and seals, most of which are predatory flesh-eating animals.
Any of various other flesh-eating animals.
An insectivorous plant.
Origin of carnivore
From
French
meat-eating
from
Latin
carnivorus
; see
carnivorous
.
---
carnivore

Usage notes
Not all meat-eaters (e.g. meat-eating birds and fish) belong to Carnivora, and not all Carnivora are meat-eaters (e.g. giant panda). To avoid the confusion, a new term carnivoran has been introduced to mean "belonging to Carnivora".
---
carnivore - Computer Definition
A network analyzer used by the FBI that analyzes e-mail packets of suspected criminals. Officially known as DCS100, FBI agents bring Windows 2000 PCs with the Carnivore software installed into an ISP and plug them into a switch port. Carnivore was designed to capture all e-mail packets as they originated as well as be able to hone in on just the suspected user without reading packets from others. See network analyzer.
---