meat

meat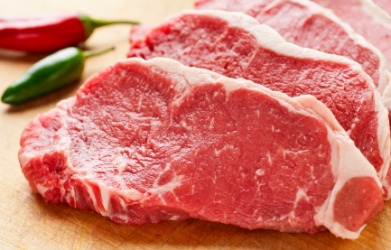 These steaks are meat.
noun
The definition of meat is the inside of something or the part that has the most value or interest.

An example of meat is the edible part of a walnut.
An example of meat is the good part of a story.

Meat is vulgar slang for a person's body, in a strictly sexual view.

An example of meat is how a woman might describe her younger boyfriend.

Meat is defined as a food that comes from mammals, or hair-covered animals that feed their young milk.

An example of meat is a steak.
---
meat
food; esp., solid food, as distinguished from drink: now archaic or dialectal except in the phrase

meat and drink

the flesh of animals used as food, esp. the flesh of mammals or, often, of fowl

Informal

the flesh (noun) of a person: not much meat on her bones

the edible, inner part: the meat of a nut
the substance, meaning, or gist: the meat of a story
one's quarry

Archaic

a meal, esp. dinner

Slang

the external genital organs: a vulgar usage
Origin of meat
Middle English
mete
from Old English from Germanic an unverified form
mad-
, food, meat from Indo-European base an unverified form
mad-
, to be moist, trickle from source mast, Classical Greek
mastos
, breast
one's meat
Slang
something that one especially enjoys or is skillful at
---
meat
noun
The edible flesh of animals, especially that of mammals as opposed to that of fish or poultry.
The edible part, as of a piece of fruit or a nut.
The essence, substance, or gist: the meat of the editorial.
Slang Something that one enjoys or excels in; a forte: Tennis is his meat.
Nourishment; food: "Love is not all: it is not meat nor drink" ( Edna St. Vincent Millay )
Vulgar Slang

a. The human body regarded as an object of sexual desire.

b. The genitals.
Origin of meat
Middle English
mete
from
Old English
food
---
meat

---