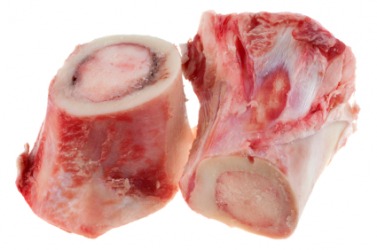 Bones cut to reveal the marrow inside.
noun
Marrow is defined as an innermost, choice part, especially the fatty tissue inside bones.

An example of marrow is the substance in bones that can be donated to a sick person in need of a blood marrow transfusion.
---
marrow
the soft, vascular, fatty tissue that fills the cavities of most bones
the innermost, essential, or choicest part; pith
vitality

Brit.

vegetable marrow
Origin of marrow
Middle English
merow
from Old English
mearg
, akin to German
mark
, marrow from Indo-European base an unverified form
mozgho-
, marrow, brains from source Sanskrit
majján-
, marrow
---
marrow
noun
Bone marrow.
The spinal cord.
The marrow squash.

a. The inmost, choicest, or essential part; the pith.

b. Strength or vigor; vitality.
Origin of marrow
Middle English
marow
from
Old English
mearg
Related Forms:
---
marrow

Noun
(plural marrows)
(uncountable) The substance inside bones which produces blood cells.
The essence; the best part.
(Scotland) One of a pair; a match; a companion; an intimate associate.
Origin
Middle English mary, marow, marowe, marowȝ, from Old English mearg, from Proto-Germanic *mazgą, *mazgaz, from Proto-Indo-European *mozgos. See Dutch merg and Russian мозг ("brain").
Origin
From Old Norse margr.
---