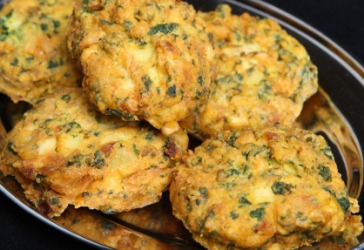 A plate of pakoras.
---
pakora
noun
in the cuisine of India, a small, spicy fritter containing pieces of vegetables or meat, made usually with a batter of chickpea flour and deep-fried
---
pakora
noun
A deep-fried fritter made of vegetables or meat dipped in a chickpea batter, served as an appetizer or a snack in South Asian cuisine.
Origin of pakora
Hindi and Urdu
pako&rlowdot;ā
, from Sanskrit
*pakvava&tlowdot;a&hlowdot;
:
pakva-
, past participle of
pacati
,
he cooks
; see
pekw-
in Indo-European roots +
va&tlowdot;a&hlowdot;
,
lump, ball of pulse fried in oil
.
---
pakora
---