pal

Pal.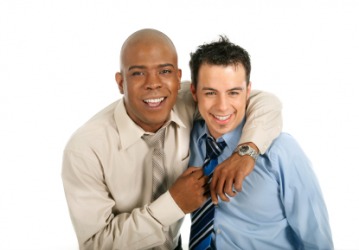 These two men are pals.
noun
The definition of a pal is a close friend.

An example of a pal is someone's best friend.
verb
Pal is defined as to be a friend.

An example of pal is to spend time having fun with a friend.
---
pal
an intimate friend; comrade; chum
Origin of pal
Romany, brother, mate (for
pr?l, phr?l,
in dialect, dialectal on European continent) from Sanskrit
bhr?tar,
brother
intransitive verb
palled

,

pal′ling
to associate as pals: with around
to be a pal (with another)
---
pal
Informal
noun
A friend; a chum.
intransitive verb
palled, pal·ling, pals
To associate as friends or chums. Often used with around.
Origin of pal
Romani
phral, phal
from
Sanskrit
bhrātā
bhrātr-
brother
; see
bhrāter-
in Indo-European roots.
Word History:
The word
pal
comes from the Indic language of the Romani people. First recorded in English in the second half of the 1700s,
pal
was borrowed from a Romani word meaning "brother, comrade," which occurs as
phal
in the Romani spoken in England and
phral
in the Romani spoken in continental Europe. The Romani speak an Indic language because they originally migrated to Europe from the border region between Iran and India. In other Indic languages we find related words meaning "brother," such as Hindu and Urdu
bhāī,
and they all come from Sanskrit
bhrātā,
which in turn traces its ancestry to the same Indo-European word that our word
brother
does.
PAL
abbreviation
phase alternation (or alternating) line
Pal.
abbreviation
Palestine
Palestinian
---
pal

Verb
(third-person singular simple present pals, present participle palling, simple past and past participle palled)
Be friends with, hang around with.

John plans to pal around with Joe today.
Proper noun
A language of Papua New Guinea.
Prefix
Archaic form of paleo-.
---
pal - Computer Definition

A television standard established in Western Germany,The Netherlands, and the United Kingdom in 1967. PAL addresses problems of uneven color reproduction that affect the NTSC standard due to phase errors associated with electromagnetic signal propagation. PAL inverts the color signal by 180
---
(1) (Programmable Array Logic) A type of programmable logic chip (PLD) that contains arrays of programmable AND gates and predefined OR gates. PALs are defined by their number of inputs and outputs; for example, a 22v10 chip means 22 inputs and 10 outputs. The inputs are connected by fuses to logic circuits, which themselves are connected by fuses to the output lines. Often used for glue logic, the chips are programmed by blowing apart the required fuses in a device similar to a PROM programmer. See PLD, glue logic and PROM programmer.
(2) (Phase Alternating Line) An analog color TV standard that was developed in Germany and first broadcast in England and West Germany in 1967. PAL has been used throughout Europe and China as well as in various African, South American and Middle Eastern countries. There are several PAL formats with different audio and video channel sizes; however, most of them have 625 lines of resolution with 576 lines containing the image. The PAL frame rate is 25 interlaced frames per second (fps), which is equal to 50 half frames per second. The digital video (DV) camcorder format and the digital television standard that are equivalent to PAL are 720x576 pixels. See DV and DVB. Brazil uses PAL M, which is almost the same as NTSC. Late model PAL TVs, VCRs and DVD players accommodate the different formats as well as NTSC media. PAL's color signals are maintained automatically, and PAL TV sets never had a user-adjustable hue control like NTSC TVs. See PAL DVD, NTSC and SECAM.
(3) (Paradox Application Language) A programming language used within Borland's Paradox relational database. Paradox is part of Corel's WordPerfect suite. See WordPerfect Office.
(4) "Parents are listening." See digispeak.
---