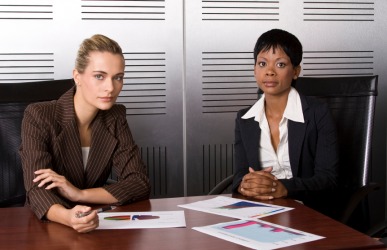 Two business partners.
noun
The definition of a partner is a person who takes part in an activity or business with others or one of two people who are in a relationship.

An example of a partner is someone who owns a business with another.
An example of a partner is a husband or a wife.
An example of a partner is a girlfriend who lives with her boyfriend.
---
partner
a person who takes part in some activity in common with another or others; associate; specif.,

one of two or more persons engaged in the same business enterprise and sharing its profits and risks: each is an agent for the other or others and is liable, except when limited to his or her own investment, for the debts of the firm
a husband or wife
either of two persons dancing together
either of two players on the same side or team playing or competing against two others, as in bridge or tennis

either of two persons not married to each other but otherwise in an intimate, spouse-like relationship
either of two persons having sex with each other

[usually pl.]

Naut.

a framework, as of timbers, for supporting a mast, capstan, etc. where it passes through the deck
Origin of partner
Middle English
partener,
altered (by associated, association with
part,
part) from
parcener
: see parcener
to join (others) together as partners
to be or provide a partner for
---
partner
noun
One that is united or associated with another or others in an activity or a sphere of common interest, especially:

a. A member of a business partnership.

b. A spouse.

c. A domestic partner.

d. A lover.

e. Either of two persons dancing together.

f. One of a pair or team in a sport or game, such as tennis or bridge.

often partners Nautical A wooden framework used to strengthen a ship's deck at the point where a mast or other structure passes through it.
verb
part·nered, part·ner·ing, part·ners
verb
intransitive
To become partners or work or associate as partners: partnered with a friend in a new venture.
verb
transitive
To be or make a partner of: She was partnered with her brother in the canoe race.
Origin of partner
Middle English
partener
alteration
(
influenced by
part
part
)
of
parcener
parcener
; see
parcener
.
---
partner

Verb
(third-person singular simple present partners, present participle partnering, simple past and past participle partnered)
to make or be a partner
to work or perform as a partner
Origin
Late 13c., from Old French parçonneour ("joint heir") from parçon ("partition"), from Latin partitionem ("portion"). The word may also represent Old French part tenour ("part holder").
---