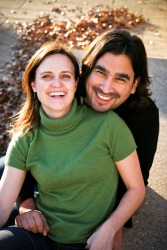 A man might call his wife his better half.
noun
The definition of better half is an expression used to refer to your spouse or significant other.

An example of a better half would be a man's wife.
---
better half
one's spouse; esp., one's wife: a humorous usage
---
better half
noun
Informal
One's spouse.
Origin of better half
Ultimately translation of such phrases in Latin poety as
animae d&imacron;midium meae
,
half of my soul (referring to the poet's friend)
.
---
better-half
---