measuring cup
measuring cup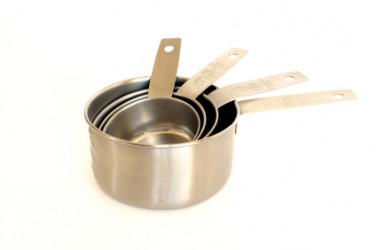 A set of metal measuring cups.
noun
The definition of a measuring cup is a tool used to assist you in ensuring you have the right quantity of something.

An example of a measuring cup is a small metal container which will hold exactly 1/3 of a cup of some substance.
---
measuring cup
a standard cup, usually one holding either 8 oz or 16 oz, with marks to show fractional amounts and with a lip for pouring, used to measure ingredients in cooking, esp. liquid ingredients
a cup for measuring dry ingredients, usually part of a set in graduated sizes including one cup (noun) and , , and of this
---
measuring-cup

Noun
(plural measuring cups)
a kitchen utensil used primarily to measure the volume of liquid or bulk solid cooking ingredients.
---