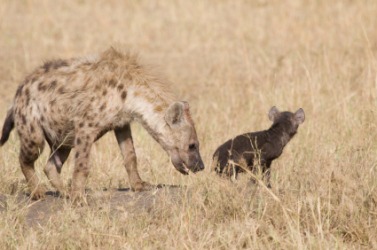 A hyena and cub.
Licensed from iStockPhoto
---
noun
any of various wolflike carnivores (family Hyaenidae) of Africa and Asia, with powerful jaws, a bristly mane, short hind legs, and a characteristic shrill cry: hyenas feed on carrion and are thought of as cowardly
Origin: L hyaena from Glassical Greek hyaina, hyena, literally , sow (so called from its hoglike mane) from hys, a hog (+ -aina, feminine suffix) from Indo-European base an unverified form sū-, hog from source swine
Webster's New World College Dictionary
Copyright © 2010 by Wiley Publishing, Inc., Cleveland, Ohio.
Used by arrangement with John Wiley & Sons, Inc.
---
also hy·ae·na
noun
Any of several carnivorous mammals of the family Hyaenidae of Africa and Asia, which feed as scavengers and have powerful jaws, relatively short hind limbs, and coarse hair.
Origin: Middle English hiena, from Old French hiene, from Latin hyaena, from Greek huaina, feminine of hūs, swine (from its bristly mane like a hog's); see sū- in Indo-European roots.
The American Heritage® Dictionary of the English Language
, 4th edition Copyright © 2010 by Houghton Mifflin Harcourt Publishing Company. Published by Houghton Mifflin Harcourt Publishing Company. All rights reserved.