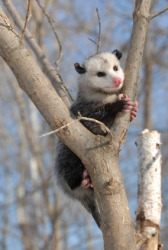 An opossum in a tree.
---
opossum definition by Webster's New World
☆
noun
pl. opossums or opossum
any of various families (esp. Didelphidae) of marsupials; esp., any of a small, omnivorous, tree-dwelling American species (Didelphis marsupialis) with a ratlike, prehensile tail, that is active at night and becomes motionless when endangered
Origin: ; from Amerindian (Algonquian) name, literally , white beast
Webster's New World College Dictionary Copyright © 2010 by Wiley Publishing, Inc., Cleveland, Ohio. Used by arrangement with John Wiley & Sons, Inc.
---
opossum definition by American Heritage Dictionary
noun
pl.
opossum
opossum
or
o·pos·sums
Any of various nocturnal, usually arboreal marsupials of the family Didelphidae, especially Didelphis marsupialis of the Western Hemisphere, having a thick coat of hair, a long snout, and a long prehensile tail. See Regional Note at possum.
Any of several similar marsupials of Australia belonging to the family Phalangeridae.
Origin: Virginia Algonquian.
Word History:
The word
opossum
takes us back to the earliest days of the American colonies. The settlement of Jamestown, Virginia, was founded in 1607 by the London Company, chartered for the planting of colonies. Even though the first years were difficult, promotional literature was glowing. In one such piece,
A True Declaration of the Estate of the Colonie in Virginia,
published in 1610, we find this passage:
"There are … Apossouns, in shape like to pigges."
This is the first recorded use of
opossum,
although in a spelling that differs from the one later settled on to reproduce the sound of the Virginia Algonquian word from which our word came. The word
opossum
and its shortened form
possum,
first recorded in 1613 in more promotional literature, remind us of a time when the New World was still very new, settlers were few, and the inhabitants for whom the New World was not new were plentiful.
opossum
Variant of opossum
☆
noun
pl. opossums or opossum
any of various families (esp. Didelphidae) of marsupials; esp., any of a small, omnivorous, tree-dwelling American species (Didelphis marsupialis) with a ratlike, prehensile tail, that is active at night and becomes motionless when endangered
Origin: ; from Amerindian (Algonquian) name, literally , white beast