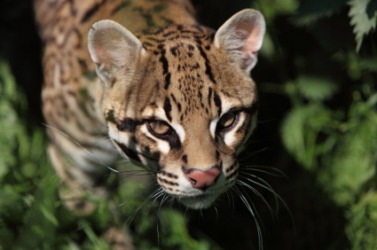 A portrait of an ocelot.
---
ocelot
---
ocelot
noun
A nocturnal wildcat (Leopardus pardalis) of brush and woodland from southwest North America to central South America, having a grayish or yellow coat with black spots.
Origin of ocelot
French, from Nahuatl
ocelotl
.
---
ocelot
Origin
From Nahuatl ōcÄ"lōtl ("jaguar").
---
ocelot
Variant of ocelot