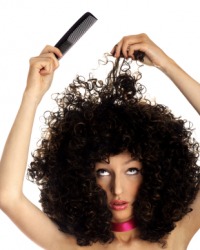 A woman teases her hair.
noun
The definition of a tease is someone who says or does something to raise hope or desire but doesn't intend to give any satisfaction.

An example of tease is a woman who dances very sexy with someone in a bar for hours and then leaves alone at the end of the night.
verb
Tease means to poke fun at someone or something.

An example of tease is making a cat chase something they'll never be able to catch.
An example of tease is repeatedly saying to a child that they have a crush on someone.

Tease is defined as to excite hope or desire without intending to give any satisfaction.

An example of tease is what a nude dancer does to her customer during a lap dance.

Tease is to fluff or separate fibers or hair by brushing with a comb or brush in the wrong direction.

An example of tease is making a bouffant hair style.
---
tease
transitive verb
teased

,

teas′ing
to separate the fibers of; card or comb (flax, wool, etc.)
to fluff (the hair) by brushing or combing in strokes from the hair ends toward the scalp
to gently shred or pull apart (tissues, etc.) for microscopic examination, cellular research, etc.
to reveal, extract, obtain, etc. by painstaking effort: often with out: it took hours to tease out the meaning of the story

to raise a nap on (cloth) by brushing with teasels; teasel
to annoy or harass by persistent mocking or poking fun, playful fooling, etc.
to urge persistently; importune

to tantalize
to excite sexually without intending to satisfy the desire aroused
Origin of tease
Middle English
tesen
from Old English
tæsan,
to pull about, pluck, tease, akin to Dutch
teezen
from Indo-European an unverified form
di-s
from base an unverified form
d?(i)-,
to cut apart, divide from source tide
a teasing or being teased
a person who teases
---
tease
verb
teased, teas·ing, teas·es
verb
transitive
a. To make fun of (someone) playfully or taunt annoyingly: was teased by my classmates for being skinny; teased him about driving such a fast car.

b. To say in a playful or mocking way: "But you're too young to get married," he teased.

c. To provoke or irritate, as with physical movements: teased the cat by dangling a string in its face.

d. To arouse sexual desire in (someone) deliberately with no intention of having sex.

e. To urge persistently; coax: teased their mother to let them stay up late.

a. To disentangle and dress the fibers of (wool, for example).

b. To ruffle (the hair) by combing from the ends toward the scalp for an airy, full effect.

c. To raise the nap of (cloth) by dressing, as with a fuller's teasel.

d. To cut (tissue, for example) into pieces for examination.

e. To extract, identify, or cause to come about. Used with out : The director teased a good performance out of the actors. The researcher teased out the factors involved in the disease.
verb
intransitive
To annoy or make fun of someone persistently: I was just teasing.
noun
An act of teasing, especially a playfully mocking remark: his tease of his friend's little sister.
One that teases, as:

a. A person who makes fun of or annoys others, as with playful or taunting remarks.

b. A flirtatious person.
Origin of tease
Middle English
tesen
to comb apart
from
Old English
tǣsan
Related Forms:
---
tease

Verb
(third-person singular simple present teases, present participle teasing, simple past and past participle teased)
To comb (originally with teasels) so that the fibres all lie in one direction.
To back-comb.
To poke fun at.
Noun
(plural teases)
One who teases.
A single act of teasing.
A cock tease; an exotic dancer; a stripper.
Origin
From Middle English tesen, from Old English tÇ£san ("to tease"), from Proto-Germanic *taisijanÄ… ("to separate, tug, shred"), from Proto-Indo-European *dāy- ("to separate, divide"). Cognate with West Frisian tiezje, tiizje ("to baffle, perplex"), Dutch tezen ("to pull, tug, scratch"), German zeisen ("to pluck, pluck apart"), Danish tæse ("to tease"). Related to touse, tose.
---