noun
The definition of a tease is someone who says or does something to raise hope or desire but doesn't intend to give any satisfaction.

An example of tease is a woman who dances very sexy with someone in a bar for hours and then leaves alone at the end of the night.
verb
Tease means to poke fun at someone or something.

An example of tease is making a cat chase something they'll never be able to catch.
An example of tease is repeatedly saying to a child that they have a crush on someone.

Tease is defined as to excite hope or desire without intending to give any satisfaction.

An example of tease is what a nude dancer does to her customer during a lap dance.

Tease is to fluff or separate fibers or hair by brushing with a comb or brush in the wrong direction.

An example of tease is making a bouffant hair style.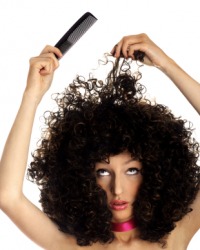 A woman teases her hair.
---
tease definition by Webster's New World
transitive verb
teased, teasing
to separate the fibers of; card or comb (flax, wool, etc.)
to fluff (the hair) by brushing or combing in strokes from the hair ends toward the scalp
to gently shred or pull apart (tissues, etc.) for microscopic examination, cellular research, etc.
☆ to reveal, extract, obtain, etc. by painstaking effort: often with out: it took hours to tease out the meaning of the story

to raise a nap on (cloth) by brushing with teasels; teasel
to annoy or harass by persistent mocking or poking fun, playful fooling, etc.
to urge persistently; importune

to tantalize
to excite sexually without intending to satisfy the desire aroused
Origin: Middle English tesen ; from Old English tæsan, to pull about, pluck, tease, akin to Dutch teezen ; from Indo-European an unverified form di-s ; from base an unverified form dā(i)-, to cut apart, divide from source tide
intransitive verb
to indulge in teasing
noun
a teasing or being teased
a person who teases
Webster's New World College Dictionary Copyright © 2010 by Wiley Publishing, Inc., Cleveland, Ohio. Used by arrangement with John Wiley & Sons, Inc.
---
tease definition by American Heritage Dictionary
verb
teased
teased
,
teas·ing
,
teas·es
verb
, transitive
To annoy or pester; vex.
To make fun of; mock playfully.
To arouse hope, desire, or curiosity in without affording satisfaction.

a. To urge persistently; coax: teasing their mother for more candy.

b. To gain by persistent coaxing: "the New York editor who could tease great books from the unpromising woolly jumble of an author's first draft" (Ian Jack).

c. To deal with or have an effect on as if by teasing.

To cut (tissue, for example) into pieces for examination.
To disentangle and dress the fibers of (wool, for example).
To raise the nap of (cloth) by dressing, as with a fuller's teasel.
To ruffle (the hair) by combing from the ends toward the scalp for an airy, full effect.
verb
, intransitive
To annoy or make fun of someone persistently.
noun
a. The act of teasing.

b. The state of being teased.

One that teases, as:

a. One given to playful mocking.

b. A woman who behaves like a coquette.

c. A preliminary remark or act intended to whet the curiosity.
Phrasal Verb:
tease out
To get by or as if by untangling or releasing with a pointed tool or device:
"It takes a carefully trained expert to tease out the truth"
(Arthur Green).
Origin: Middle English tesen, to comb apart, from Old English tǣsan.
Related Forms:
The American Heritage® Dictionary of the English Language, 4th edition Copyright © 2010 by Houghton Mifflin Harcourt Publishing Company. Published by Houghton Mifflin Harcourt Publishing Company. All rights reserved.
---
tease - Medical Definition
verb
To separate the structural parts of a tissue, as with a needle, in order to prepare it for microscopic examination.