noun
The definition of a cod is a fish in the family Gadidae with low fat and a mild flavor.

An example of a cod is the fish used to make cod liver oil.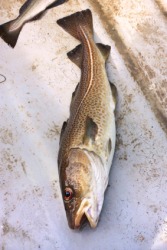 A freshly caught cod.
---
cod
noun
pl. cod or cods
any of various gadoid fishes of northern seas, important as a source of cod-liver oil and food, esp. any of a genus (Gadus) with firm flesh and soft fins, found off the coast of Newfoundland and Norway
Origin of cod
Middle English ; from uncertain or unknown; perhaps
cod
, in reference to shape
noun
Archaic

a bag

Dialectal

a pod; husk

Obsolete

the scrotum
Origin of cod
Middle English ; from Old English
codd
, akin to Old Norse
koddi
, cushion ; from Indo-European an unverified form
geut-
; from base an unverified form
geu-
, to bend, arch from source cot, Classical Latin
guttur
, throat
noun
a hoax; trick
a parody or satire
adjective
mock; sham
parodic or satirical
transitive verb
to fool, hoax, trick, etc.
to tease
hook-shaped peninsula in E Mass. from Buzzards Bay to Provincetown: 64 mi (103 km) long
Origin of Cod
; from fish name
noun
the amount of oxidizing agent needed to oxidize the organic and oxidizable inorganic matter in waste water
this matter in the waste water
Origin of COD
c(hemical) o(xyen) d(emand)
☆ or cod
cash, or collect, on delivery
---
cod
or cod·fish
noun
pl.
cod
cod
or
cods
or
codfish
or
cod·fish·es
See Atlantic cod.
Any of various marine fishes of the family Gadidae, which includes the Atlantic cod and the haddock.
Origin of cod
Middle English.
noun
Archaic A husk or pod.
Archaic The scrotum.
Obsolete A bag.
Origin of cod
Middle English, from Old English
codd
.
abbreviation
cash on delivery
cause of death
collect on delivery
---
cod
---
cod - Computer Definition
---
cod
Variant of cod
noun
pl. cod or cods
any of various gadoid fishes of northern seas, important as a source of cod-liver oil and food, esp. any of a genus (Gadus) with firm flesh and soft fins, found off the coast of Newfoundland and Norway
Origin of cod
Middle English ; from uncertain or unknown; perhaps
cod
, in reference to shape