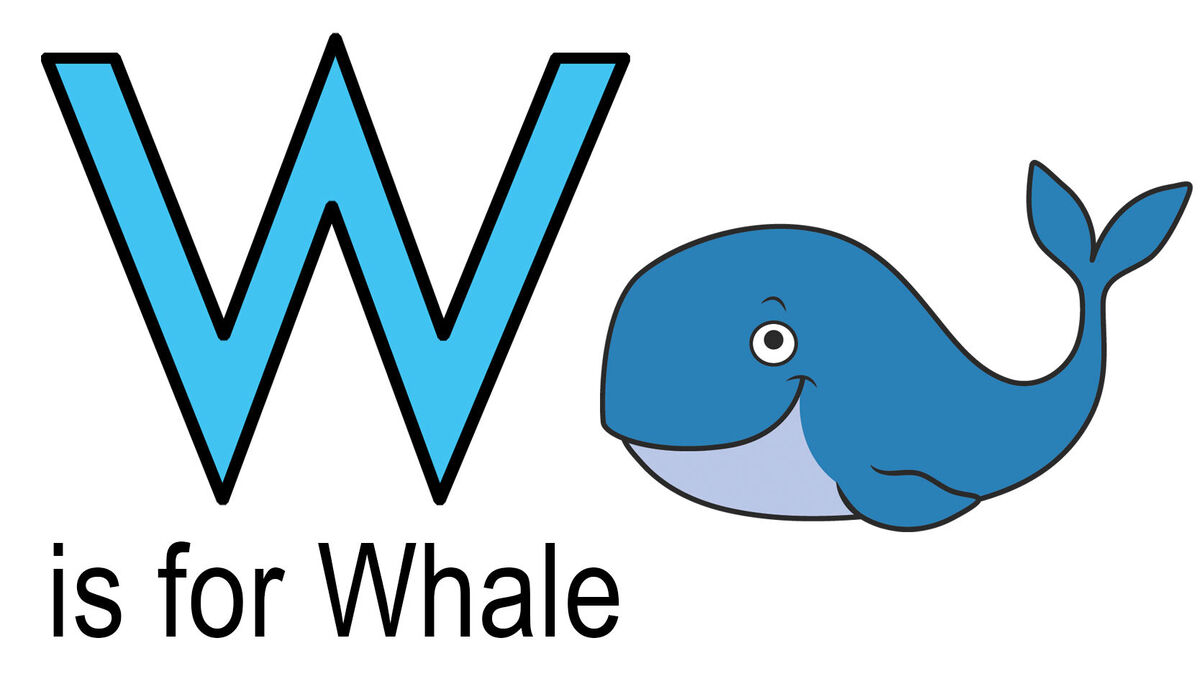 W is an important letter. Even though it's at the end of the alphabet, it's found in some pretty important words, including the famous 5 W's (who, what, where, when, and why). Incorporate more W words for kids into your vocabulary lists with these helpful W word lists. Alongside each group of words is a worthwhile set of classroom activities and printables.
Preschool Words That Start With W
For pre-literate youngsters, studying vocabulary has one all-important goal: make the link between the W sound, spoken and heard, and the letter W written on the page. We've emphasized concrete, vivid concepts to help your youngest students make that connection in this word list.
Wag: To wiggle back and forth, as a dog's tail
Was: Past tense of "is"

Wax: Soft yellow substance bees use to make hives, or any substance like it used by humans

Way: A path to follow
Web: Connected strings made with spider's silk
Wee: Very small
Wet: To be soaked in water
Wig: A head covering that looks like hair
Win: To succeed at something, especially a contest
Won: Past tense of "win"
Wow: A word that expresses surprise
Printing the Letter W Printable
Our letter W activity for preschool and kindergarten students is designed to help young students connect the written word with spoken language even before they're reading. We've developed a trace-the-letter activity for your preschool and kindergarten students so they have a clear feel for the letter W.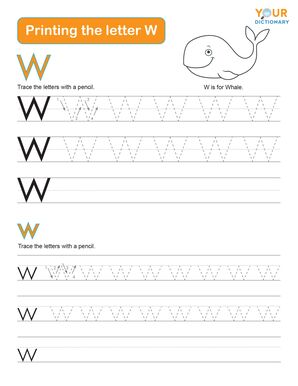 Kindergarten Words That Start With W
Add these kindergarten-level W words to your list of sight words. They include words with common consonant blends and vowel teams. Kindergartners are likely to encounter these words in their storybooks as well as your vocabulary list.
Matching W Words Printable
Work on W words even more with a fun, colorable printable! Kindergartners identify six things that start with W and draw lines between them and the correct word. It's a great addition to a homework packet or small group activity.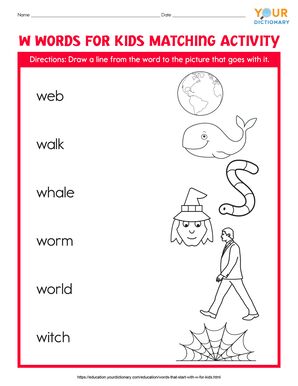 Early Elementary Words That Start With W
As your students begin to read, providing them with W words they recognize is vital. Nothing reinforces vocabulary like proof, printed clear on a page, that these words are real and used. Check out a list of W words for kids in first and second grades that includes interrogative pronouns and words with a silent "w."
Question Words That Start With W Printable
The question words (what, when, where, who and why) can still be tricky at this age. We've crafted an activity to help. Using the downloadable PDF below, your students will be able to write and read a story based on the five fundamental question words.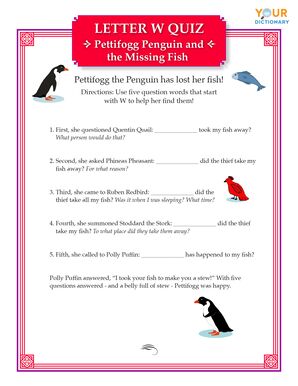 Making Vocabulary a Visual Activity
Early elementary is a very visual age. Linking images to concepts — pictures or videos of whales, wombats and sheep-shearing go a long way with students this age — will help build a foundation of literacy. Bring in items that connect with your W words for kids, and see how many learners can pair them to their correct labels.

Upper Elementary Words That Start With W
Third, fourth and fifth grade should be the beginning of moving beyond rote vocabulary exercises and into the larger context of language. We've chosen our upper elementary W words to suit that goal.
Our lists of W words are designed to help your students share and connect their experiences. Encourage them to identify animals that are part of the local wildlife. Ask them for situations in which it's appropriate to whisper. Show them pictures of animal warrens: rabbits, moles, badgers, or naked mole rats if you'd like. It's all about connecting language to the world at large.
If you want to reinforce W words and parts of speech at the same time, encourage upper elementary readers to play charades. They can choose from a number of verbs that start with W to act out in front of the class. Or, for higher-level readers, have them use a list of adjectives that start with W for their classmates to guess.
For all that W occupies a curious space in our language, it's key to some of our most basic vocabulary. These W word lists are designed to help elementary students of all ages get to grips with that vocabulary in ways that make sense to them.
Willing to wage a war against waning words? You can find even more choices for vocabulary lists in WordFinder's list of words that start with the letter W. Fill out the advanced search fields to sort by word length and letters included. It's a win-win! For more enriching vocabulary, take a look at our words that start with X, Y and Z. There's more to them than x-rays, yo-yos and zebras!