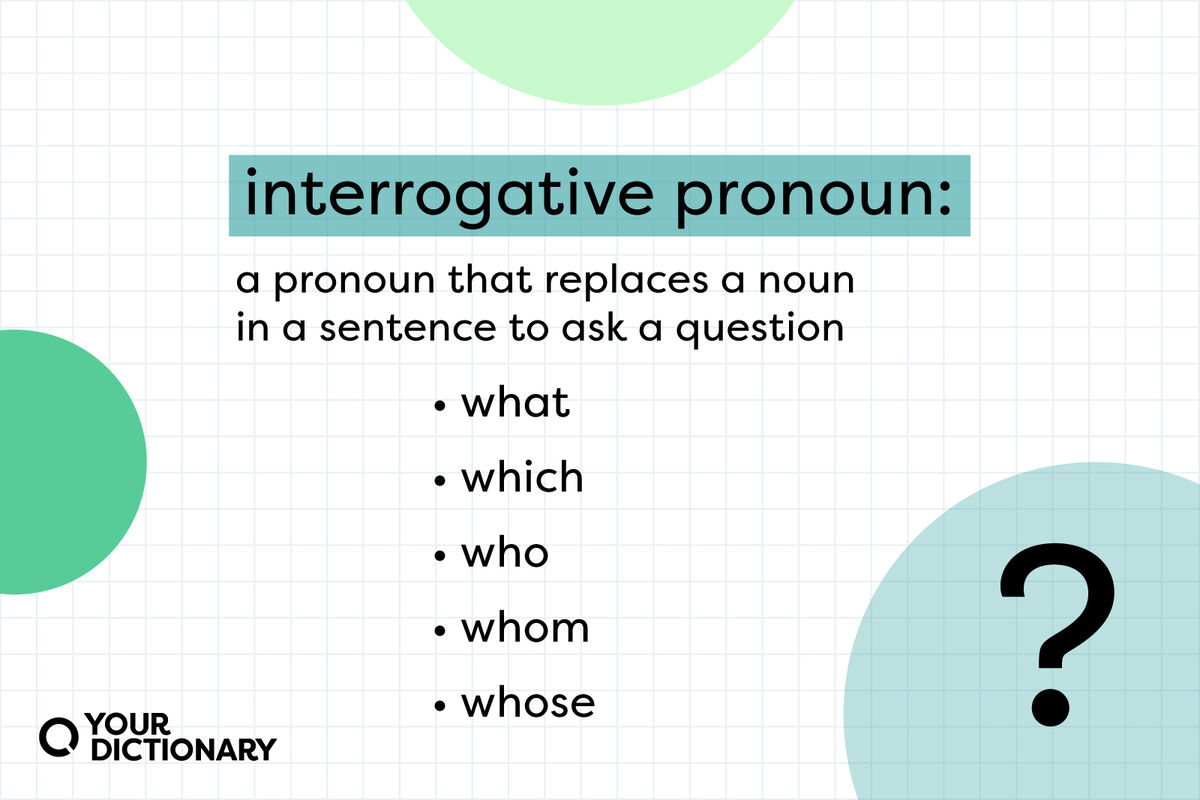 What is an interrogative pronoun. No, there shouldn't be a question mark at the end of that sentence — the word what is an interrogative pronoun. So what are the other interrogative pronouns? (That one really was a question.)
What Is an Interrogative Pronoun?
An interrogative pronoun replaces a noun in a sentence to ask a question. You don't know which noun it's replacing until someone answers the question.
List of Interrogative Pronouns
The five main interrogative pronouns are:
what (What do you want?)
which (Which do you prefer?)
who (Who is that?)
whom (Whom did you ask?)
whose (Whose are these?)
Each of these pronouns stands in for a noun — which is the answer to the question. For example, in the sentence "What do you want?", what can be a hamburger, a hug, or a new car, depending on what the speaker answers.
Interrogative Pronouns Ending in -ever
When you add -ever to interrogative pronouns, you get whatever, whichever, whoever, whomever, and whosever (yes, it's a word). They typically function as object pronouns, but they can also function as interrogative pronouns with a fancier feel. 
Whatever happened to my slippers?
Whichever did you choose?
Whoever would have taken it? 
Whomever would you select?
Whosever is this?
Where Are "Where," "When", "Why," and "How"?
Don't when, where, why, and how belong on that list of interrogative pronouns? The answer is no — even though they do make up the famous 5 W's (and H). They are not interrogative pronouns because they are not pronouns.
When, where, why, and how are interrogative adverbs. They function as adverbs to modify verbs.
When - adverb of time (When is the meeting? Tomorrow.)
Where - adverb of place (Where is the bathroom? Upstairs.)
Why - adverb of manner (Why did you leave? Because I was late.)
How - adverb of manner (How are you? I am well.)
The answers to these questions aren't nouns — they're adverbs or adverbial clauses.
Tip: Questions that begin with interrogative pronouns always have answers that are nouns.
How To Use Interrogative Pronouns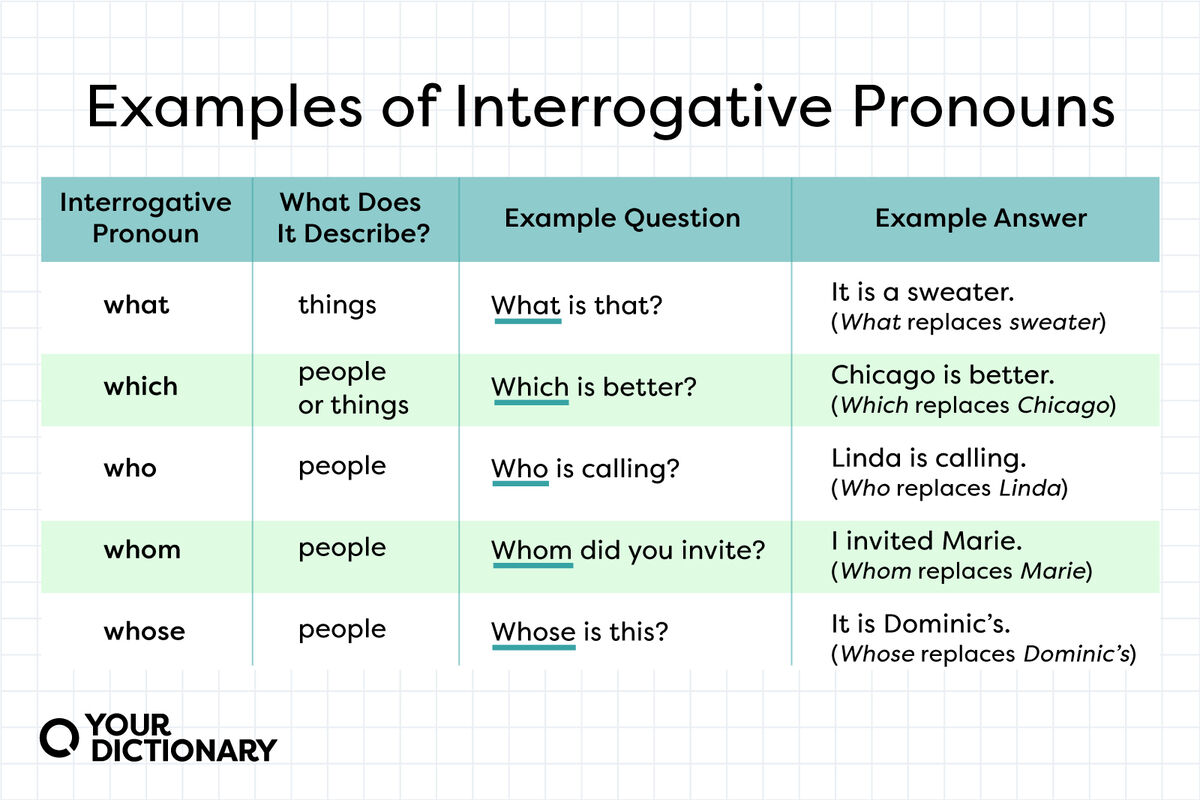 Subject Interrogative Pronouns
What, which and who replace the subject of a sentence — the noun performing the verb — when asking a question.
What is your favorite? Chocolate is my favorite. (Chocolate is the subject)
Who asked you? Oliver asked me. (Oliver is the subject)
Which costs more? The Toyota costs more. (The Toyota is the subject)
Object Interrogative Pronouns
What and which can also function as object pronouns, which receive the action or item in a sentence. Whom is also an object interrogative pronoun (which should settle the who vs. whom debate).
What did you buy? I bought a necklace. (I is the subject; necklace is the object)
Which does Becky want? Becky wants the green shirt. (Becky is the subject; the green shirt is the object)
Whom do you like more? I like Paul more. (I is the subject; Paul is the object)
Possessive Interrogative Pronoun
Whose replaces a possessive noun in a sentence to show who something belongs to. Notice that there's no other noun in the sentence when whose functions as an interrogative pronoun.
Whose is this? It's Yolanda's.
Whose did you find? I found Marty's.
Whose are you buying? I'm buying Tom's.
Can Interrogative Pronouns Describe Nouns?
Replacing nouns in questions isn't the only job for what, which, who, whom, and whose. They can function as interrogative determiners — words that describe nouns, not replace them.
Whose shirt is this? (Whose modifies shirt)
What movie should we watch? (What modifies movie)
Which car is better? (Which modifies car)
Try removing the nouns shirt, movie, and car from the sentences. Now you've got interrogative pronouns again!
Whose is this? (Whose replaces shirt)
What should we watch? (What replaces movie)
Which is better? (Which replaces car)
When interrogative pronouns appear in sentences that are not questions, they function as relative pronouns. Relative pronouns connect a noun and another clause. Whom, whose, who, and which are relative pronouns — and instead of what, you'd use that.
Interrogative Pronoun Exercise
Determine whether the bolded word in each sentence is an interrogative pronoun or not.
Today I went to the movies with Lila, who is my girlfriend.
She asked, "What's playing?"
"A comedy that you haven't seen before," I said.
"Great!" Lila said. "When does it start?"
"Three o'clock and six o'clock," I said. "Which time do you prefer?"
"Six," she said. "Who is in the movie?"
"The actress who stars in all your favorite movies," I said.
Lila nodded. "Whose car should we take?"
"Let's take yours," I said. "Where is it parked?"
"In the driveway," said Lila. "What are you waiting for? Let's go!"
Interrogative Pronoun Exercise Answers
Are there interrogative pronouns in these sentences?
Today I went to the movies with Lila, who is my girlfriend. (No — it's a relative pronoun)
She asked, "What's playing?" (Yes)
"A comedy that you haven't seen before," I said. (No — it's a relative pronoun)
"Great!" Lila said. "When does it start?" (No — it's an Interrogative adverb)
"Three o'clock and six o'clock," I said. "Which time do you prefer?" (No — it's an interrogative determiner)
"Six," she said. "Who is in the movie?" (Yes)
"The actress who stars in all your favorite movies," I said. (No — it's a relative pronoun)
Lila nodded. "Whose car should we take?" (No — it's an interrogative determiner)
"Let's take yours," I said. "Where is it parked?" (No — it's an Interrogative adverb)
"In the driveway," said Lila. "What are you waiting for? Let's go!" (Yes)