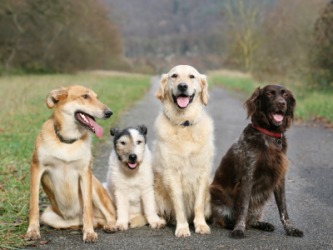 Four dogs of different breeds.
noun
The definition of a dog is a four-legged animal that is often kept as a pet or used for hunting.

An example of a dog is a beagle.
---
dog
noun
pl.

dogs

or
any of a large and varied group of domesticated canines (Canis familiaris) often kept as a house pet or used for hunting, guarding people or property, etc.
any of various wild canines

the male of a canine
a mean, contemptible fellow
a prairie dog, dogfish, or other animal thought to resemble a dog

Origin of dog

< its orig. shape: cf. Fr chenet an andiron; firedog

Informal

a person: lucky dog
[pl.]

Slang

feet

Informal

hot dog (sense )

Slang

an unattractive or unpopular person
an unsatisfactory thing or unsuccessful venture

Mech.

any of several devices for holding or grappling

Meteorol.

a parhelion; sundog
a fogdog
Origin of dog
ME, generalized in sense from late, rare Old English
docga, dogga
(usual
hund
: see hound) from uncertain or unknown; perhaps
designating a family (Canidae) of meat-eating animals that includes dogs, foxes, wolves, coyotes, and jackals
transitive verb
dogged

,

dog′ging
to follow, hunt, or track down doggedly
to hold or secure with a mechanical dog
very; completely: used in comb.: dog-tired
Origin of dog
< phr.
as ___ as a dog
dog in the manger
a person who keeps others from having or enjoying something which that person either has but cannot use and may not want or does want but cannot have
Origin of dog
from the fable of Aesop in which a dog stays in an ox's manger and keeps the ox from eating the hay, even though the dog cannot eat it himself
dog it
Slang
to fail to exert the maximum or expected effort
every dog has his day
something good or lucky happens to everyone at one time or another
go to the dogs
Informal
to deteriorate; degenerate
let sleeping dogs lie
to let well enough alone; not disturb things as they are for fear of something worse
put on the dog
Slang
to make a show of being very elegant, wealthy, etc.
teach an old dog new tricks
to induce a person of settled habits to adopt new methods or ideas
the Greater Dog
the constellation Canis Major
the Lesser Dog
the constellation Canis Minor
also called
the Little Dog

---
dog
noun
A domesticated carnivorous mammal (Canis familiaris syn. Canis lupus subsp. familiaris) occurring as a wide variety of breeds, many of which are traditionally used for hunting, herding, drawing sleds, and other tasks, and are kept as pets.
Any of various carnivorous mammals of the family Canidae, such as the dingo.
A male animal of the family Canidae, especially of a fox or a domesticated breed.
Any of various other animals, such as the prairie dog.
Informal

a. A person: You won, you lucky dog.

b. A person regarded as contemptible: You stole my watch, you dog.

Slang

a. A person regarded as unattractive or uninteresting.

b. Something of inferior or low quality: "The President had read the speech to some of his friends and they told him it was a dog" ( John P. Roche )

c. An investment that produces a low return or a loss.

dogs Slang The feet.
See andiron.
Slang A hot dog; a wiener.
Any of various hooked or U-shaped metallic devices used for gripping or holding heavy objects.
Astronomy A sundog.
adverb
Totally; completely. Often used in combination: dog-tired.
transitive verb
dogged, dog·ging, dogs
To track or trail persistently: "A stranger then is still dogging us" ( Arthur Conan Doyle )
To hold or fasten with a mechanical device: "Watertight doors and hatches were dropped into place and dogged down to give the ship full watertight integrity" ( Tom Clancy )

a. To be persistently or inescapably associated with: Questions about his youthful indiscretions dogged him throughout his career.

b. To be recurrently or persistently in the mind; haunt: Despair dogged him in his final years.
Origin of dog
Middle English
dogge
cur, ordinary dog (often as opposed to a hunting hound or other valuable dog)
from
Old English
docga
dog, perhaps originally a diminutive or a hypocorism meaning "Darky, Dusky,"
from
dox
dark, dusky
(
for the formation, compare
Old English
frox
frog
) (
and
frogga
frog, perhaps originally a diminutive
)
---
dog

---