rover

ro·ver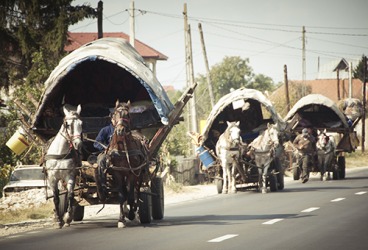 A group of rovers in Romania travel from town to town across Eastern Europe.
noun
The definition of a rover is a wandering person or thing.

An example of a rover is a gypsy.
---
rover
a person, animal, or thing that roves, or wanders

Archery

a mark, or target, chosen at random
any of several set marks for distance shooting
an archer who shoots for distance

[R-] a traditional name for a pet dog: sometimes used informally to refer to the typical pet dog

lunar rover
an unmanned robotic vehicle equipped with cameras, etc. and designed for use as in exploring the surface of an extraterrestrial planet or the ocean floor
Origin of rover
rove + -er
Archaic
a pirate or pirate ship
Origin of rover
Middle English from MDu, robber from
roven,
to rob (for Indo-European base see rupture): probably merged with rover
a person who operates a machine for roving fibers
such a machine
---
rover
noun
a. One that roves; a wanderer.

b. A crewed or uncrewed vehicle, used especially in exploring the terrain of a planet or other celestial object.

Sports A mark in archery selected by chance.
noun
A pirate.
A pirate vessel.
Origin of rover
Middle English
from
Middle Dutch
or
Middle Low German
robber
from
roven
to rob
; see
reup-
in Indo-European roots.
---
rover

---