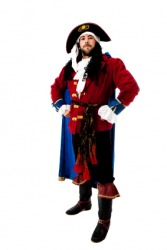 A romanticized image of a pirate.
noun
The definition of a pirate is someone who steals, particularly at sea.

Examples of Pirate Slang

There is no telling how many slang words were truly used by pirates. Even professors of history and linguistic studies can only estimate, however, there are written accounts from voyages and adventures taken long ago that have brought to light the many different slang words and phrases.
Shiver me timbers - A simple expression of shock or disbelief
All hands hoay - A call to action for the ship's crew for all hands to be on deck
Jacob's ladder - A rope ladder that is used to climb aboard the ship
Cackle fruit - Slang for chicken eggs
Monkey - Slang for a small cannon
Head - The toilet which was a hole cut into the deck of a ship's head or bow where human waste would go directly into the sea
Poop deck - The deck that had the highest back and was above the Captain's quarters
Black jack - A drinking cup made of tar and leather
Grog - A drink mixture of water and rum that was used to cover the taste of the spoiled water that sailors often drank
In the hog's head - This mean's you are drunk. A hog's head is a barrel of alcohol.
Grog - Technically, grog is rum and water, but you can call whatever you're drinking grog if you want to.
Avast - When you want someone to pay attention or if you are very surprised, you can say "AVAST!" You may also say "Blow me down!"
Arrr - This is the word most pirate jokes are made of. It can mean anything you want it to.
Aye - Say "aye" instead of "yes."
Pieces of eight - This is money. You can also say "booty."
In Davy's grip - This means that someone is near death, probably after drinking a hog's head of grog. Davy Jones is the ruler of the depths of the sea.
Davy Jones locker - A place at the bottom of the ocean where dead sailors and pirates would go in death
I'll see you Davy Jones - This means you are threatening to kill someone
To have the Davies or the Joneseys - This means that you are frightened

The whole notion of Davy Jones is attributed to an evil spirit who allegedly lurked at sea waiting to escort dead sailors to the sea bottom.

An example of a pirate is Captain Hook.
verb
Pirate is defined as to rob or steal, or to publish or use copyrighted material without permission.

An example of to pirate is to illegally download music online or to illegally make use of television broadcast transmissions.
---
pirate
a person who practices piracy; esp., a robber of ships on the high seas
a ship used by pirates in attacking other vessels
one who engages in the illegal recording, transmission, or reception of radio or TV broadcasts
Origin of pirate
Middle English from Classical Latin
pirata
from Classical Greek
peirat?s
from
peir?n,
to attempt, attack from Indo-European base an unverified form
per-,
to bring through, penetrate from source fare
transitive verb
intransitive verb
-·rated

,

-·rat·ing
to practice piracy (upon)
to take (something) by piracy
to publish, reproduce, or make use of without authorization (a literary work, musical recording, film, etc.), esp. in violation of a copyright
---
pirate
noun
One who commits or practices piracy at sea.
One who makes use of or reproduces the work of another without authorization.
One who illegally intercepts or uses radio or television signals, especially one who operates an illegal television or radio station.
verb
pi·rat·ed, pi·rat·ing, pi·rates
verb
transitive
To attack and rob (a ship at sea).
To take (something) by piracy.
To make use of or reproduce (another's work) without authorization.
verb
intransitive
To act as a pirate; practice piracy.
Origin of pirate
Middle English
from
Old French
from
Latin
pīrāta
from
Greek
peirātēs
from
peirān
to attempt
from
peira
trial
; see
per-
3
in Indo-European roots.
Related Forms:
pi·rat′ic pi·rat′i·cal

adjective
---
pirate

---