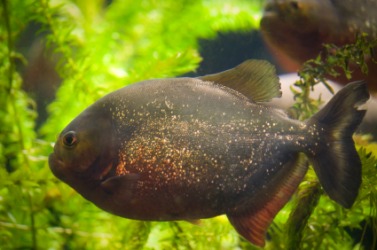 A caribe, or piranha, in an aquarium.
---
piranha
noun
pl. piranhas or piranha
any of various small South American freshwater bony fishes (family Serrasalmidae, order Cypriniformes) having strong jaws and very sharp teeth: they hunt in schools, attacking any animals, including human beings
Origin of piranha
Brazilian Portuguese ; from Tupí and amp; Guaraní, toothed fish ; from
pirá
, fish +
sainha,
tooth
---
piranha
also pi·ra·ña
noun
Any of various tropical American freshwater fishes of several genera, especially Serrasalmus and Pygocentrus, that have sharp teeth and are known for attacking and feeding on live animals. Also called caribe.
Origin of piranha
Portuguese, from Tupí :
pirá
,
fish
+
ánha
,
teeth
.
---
piranha
Noun
(plural piranhas)
Any of the carnivorous freshwater fish living in South American rivers and belonging to the subfamily Serrasalminae.
Origin
First attested in 1869. The first part of the term is from Ere pirá ("fish"). There are four theories regarding the source of second part:
It may be from Old Tupi sanha, sainha ("tooth"), or a Guaraní cognate of the same.
It may be from Old Tupi ánha.
The full term may have been pira nya, a variant of pira'ya ("scissor-fish"), in Old Tupi.
It may be from Old Tupi anhá, meaning "bad" or "devil" in Tupi-Guarani.
Coming via Portuguese (as piranha) and via Spanish (as piraña).
---
piranha
Variant of piranha
noun
pl. piranhas or piranha
any of various small South American freshwater bony fishes (family Serrasalmidae, order Cypriniformes) having strong jaws and very sharp teeth: they hunt in schools, attacking any animals, including human beings
Origin of piranha
Brazilian Portuguese ; from Tupí and amp; Guaraní, toothed fish ; from
pirá
, fish +
sainha,
tooth