piranha
[pi rä′nə, -ran′ə; pi rän′yə]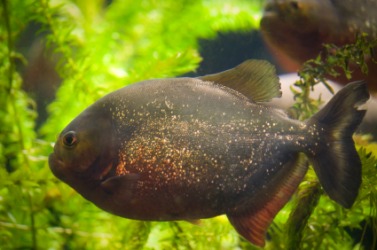 A caribe, or piranha, in an aquarium.
---
piranha definition by Webster's New World
noun
pl. piranhas or piranha
any of various small South American freshwater bony fishes (family Serrasalmidae, order Cypriniformes) having strong jaws and very sharp teeth: they hunt in schools, attacking any animals, including human beings
Origin: Brazilian Portuguese ; from Tupí and amp; Guaraní, toothed fish ; from pirá, fish plush sainha, tooth
Webster's New World College Dictionary Copyright © 2010 by Wiley Publishing, Inc., Cleveland, Ohio. Used by arrangement with John Wiley & Sons, Inc.
---
piranha definition by American Heritage Dictionary
also pi·ra·ña
noun
Any of several tropical American freshwater fishes of the genus Serrasalmus that are voraciously carnivorous and often attack and destroy living animals. Also called caribe.
Origin: Portuguese, from Tupi : pirá, fish + ánha, to cut.
piranha
Variant of piranha
noun
pl. piranhas or piranha
any of various small South American freshwater bony fishes (family Serrasalmidae, order Cypriniformes) having strong jaws and very sharp teeth: they hunt in schools, attacking any animals, including human beings
Origin: Brazilian Portuguese ; from Tupí and amp; Guaraní, toothed fish ; from pirá, fish plush sainha, tooth