noun
The definition of a crib is a bed for a baby that has slats on the side to keep the baby from falling out or getting out, or is a slang term for a house or apartment.

The bed where you put your baby that has wooden slats on the side is an example of a crib.
When you want people to come back to your house, this is an example of a time when you might invite them back to your crib.
verb
To crib is to copy something without authorization or without giving credit to the original author.

When you copy someone's homework, this is an example of a time when you crib.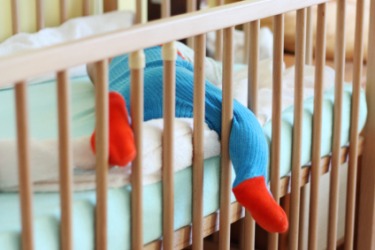 A sleeping baby in his crib.
---
crib
noun
a rack, trough, or box for fodder; manger
a stall for cattle, oxen, etc.
a small house or room
a small bed with high sides, for a baby
a framework of wooden or metal bars for support or strengthening, as in a mine
a framework or enclosure as for storing grain
☆ a structure secured under water, serving as a pier, a water intake, etc.

Informal

a petty theft
a plagiarism
notes, a translation of a foreign writing, or other aids used, often dishonestly, in doing schoolwork

Slang

the house, apartment, etc. where a person lives

Cribbage

the cards discarded by the players and forming an extra hand for the dealer, counted for points but not played
Origin of crib
Middle English and amp; Old English ox stall, couch, akin to German
krippe
, Frankish an unverified form
kripja
: basic sense "what is woven or plaited, basket" ; from Indo-European an unverified form
grebh-
; from base an unverified form
ger-
, to wind, turn, weave; senses of "steal," and the like ; from thieves' slang ; from origin, originally sense "to put in a basket"; crib from Biblical application of cribsense
transitive verb
cribbed, cribbing
toshut up in or as in a crib; confine
to furnish with a crib or cribs

Informal

to steal
to plagiarize
intransitive verb
to have the habit of crib biting

Informal

to do schoolwork dishonestly, as by using a crib
---
crib
noun
A bed with high sides for a young child or baby.

a. A small building, usually with slatted sides, for storing corn.

b. A rack or trough for fodder; a manger.

c. A stall for cattle.

A small crude cottage or room.
Slang One's home.
A framework to support or strengthen a mine or shaft.
A wicker basket.

a. A petty theft.

b. Plagiarism.

Games A set of cards made up from discards by each player in cribbage, used by the dealer.
verb
cribbed
cribbed
,
crib·bing
,
cribs
verb
, transitive
To confine or cramp.
To furnish with a crib.

a. To plagiarize (an idea or answer, for example).

b. To steal.
verb
, intransitive
To plagiarize; cheat.
Origin of crib
Middle English,
manger
, from Old English
cribb
.
Related Forms:
---
crib
---