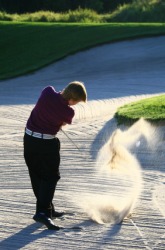 A golfer trying to hit his ball out of a bunker.
noun
The definition of bunker means an underground place of security, or a storage place for a ship's fuel, or a sand trap in golf.

An example of a bunker is an underground bomb shelter.
An example of a bunker is a fuel tank on a ship.
An example of a bunker is a sand trap on a golf course.
verb
Bunker means to give fuel to a ship, or to hit a ball into a sand trap while playing golf.

An example of bunker is to load fuel onto a ship.
An example of bunker is something a beginning golfer might do.
---
bunker
a large bin or tank, as for a ship's fuel
an underground fortification of steel and concrete containing a bomb shelter, weapon emplacement, etc., that is often part of a system
a sand trap or other barren area serving as a hazard on a golf course
Origin of bunker
Scottish from uncertain or unknown; perhaps
to supply (a ship) with fuel

Golf

to hit (a ball) into a bunker
---
bunker
noun
a. A bin or tank especially for fuel storage, as on a ship.

b. often bunkers Fuel, such as coal or fuel oil, used especially in ships.

An underground fortification, often with a concrete projection above ground level for observation or gun emplacements.
Sports See sand trap.
transitive verb
bun·kered, bun·ker·ing, bun·kers
To store or place (fuel) in a bunker.
Sports To hit (a golf ball) into a sand trap.
Origin of bunker
Scots
bonker
chest
perhaps of Scandinavian origin
Related Forms:
---
bunker

Noun
(plural bunkers)
(military) A hardened shelter, often buried partly or fully underground, designed to protect the inhabitants from falling bombs or other attacks.
(UK) A large container or bin for storing coal, often built outside in the yard of a house. Now rare, as different types of fuels and energy sources are being used.
(nautical) A container for storing coal or fuel oil for a ship's engine.
(golf) A sand-filled hollow on a golf course.
(paintball) An obstacle used to block an opposing player's view and field of fire.
Verb
(third-person singular simple present bunkers, present participle bunkering, simple past and past participle bunkered)
(nautical) To load a vessel with oil or coal for the engine.
(golf) To hit a golfball into a bunker.
(paintball) To fire constantly at a hiding opponent, preventing them from firing at other players and trapping them behind the barrier. This can also refer to eliminating an opponent behind cover by rushing the position and firing at extremely close range as the player becomes exposed.
---