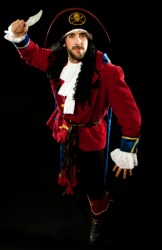 A man dressed as a buccaneer.
noun
The definition of buccaneer is a pirate or an sea adventurer along the Spanish coasts in the 17th century.

An example of a buccaneer is Captain Hook.
verb
Buccaneer means to act like a pirate.

An example of to buccaneer is to act and dress like a pirate for Halloween.
---
buccaneer
a pirate, or sea robber, esp. one who raided along the Spanish coasts of America in the 17th cent.
Origin of buccaneer
French
boucanier,
user of a
boucan,
native Brazilian grill for roasting meat; origin, originally applied to French hunters of wild oxen in Haiti
---
buccaneer
noun
A pirate, especially one of the freebooters who plundered Spanish shipping in the West Indies during the 17th century.
A ruthless speculator or adventurer.
intransitive verb
buc·ca·neered, buc·ca·neer·ing, buc·ca·neers
To plunder shipping; act as a buccaneer.
To show boldness and enterprise, as in business, often in a reckless or unscrupulous way.
Origin of buccaneer
French
boucanier
from
boucaner
to cure meat
from
boucan
barbecue frame
of Tupian origin
Tupí
mukém
rack
Word History:
When it is first attested in the middle of the 17th century, the French word
boucanier,
later borrowed into English as
buccaneer,
referred to French traders on the islands of Hispaniola and Tortuga. The traders hunted the feral cattle and boars on the islands for their hides, and they smoked the meat in a barbecue frame known in French as a
boucan.
The French word came from the Tupí word for a wooden rack used for roasting. The original barbecuing buccaneers subsequently adopted a more remunerative way of life, piracy, which accounts for the modern meanings of the English word.
---
buccaneer

Verb
(third-person singular simple present buccaneers, present participle buccaneering, simple past and past participle buccaneered)
To engage in piracy against any but one's own nation's ships.
Origin
French boucanier, from boucaner ("to smoke or broil meat and fish, to hunt wild beasts for their skins").
---