noun
The definition of a nomad is a person or group of people without a designated home who roam around in search of food and pasture land.

A person who moves from place to place without having a permanent home is an example of a nomad.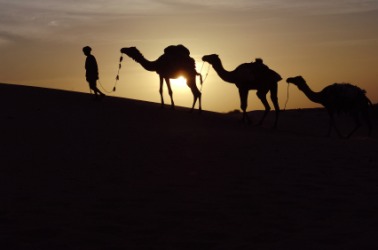 A nomad leads his camel at sunset.
---
nomad definition by Webster's New World
noun
a member of a tribe or people having no permanent home, but moving about constantly in search of food, pasture, etc.
any wanderer who has no fixed home
Origin: Classical Latin nomas (gen. nomadis) ; from Classical Greek origin, originally , roaming about for pasture ; from nemein, to pasture, origin, originally , to distribute: see -nomy
adjective
nomadic; wandering
Webster's New World College Dictionary Copyright © 2010 by Wiley Publishing, Inc., Cleveland, Ohio. Used by arrangement with John Wiley & Sons, Inc.
---
nomad definition by American Heritage Dictionary
noun
A member of a group of people who have no fixed home and move according to the seasons from place to place in search of food, water, and grazing land.
A person with no fixed residence who roams about; a wanderer.
Origin: French nomade, from Latin nomas, nomad-, from Greek nomas, wandering in search of pasture; see nem- in Indo-European roots.
Related Forms:
The American Heritage® Dictionary of the English Language, 4th edition Copyright © 2010 by Houghton Mifflin Harcourt Publishing Company. Published by Houghton Mifflin Harcourt Publishing Company. All rights reserved.
---
nomad - Computer Definition
A relational DBMS for IBM mainframes, PCs and VAXes from Select Business Solutions, Trumbull, CT (www.selectbs.com). Introduced in the mid-1970s, it was one of the first database systems to provide a non-procedural language for data manipulation. NOMAD can also access data on Oracle, Sybase, DB2 and other databases. Former corporate owners of NOMAD include Thomson Software and the Gores Technology Group.