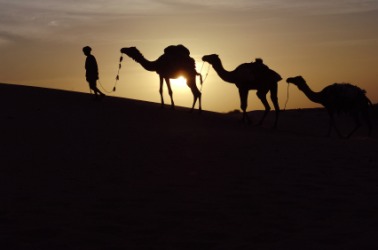 A nomad leads his camel at sunset.
noun
The definition of a nomad is a person or group of people without a designated home who roam around in search of food and pasture land.

A person who moves from place to place without having a permanent home is an example of a nomad.
---
nomad
a member of a tribe or people having no permanent home, but moving about constantly in search of food, pasture, etc.
any wanderer who has no fixed home
Origin of nomad
Classical Latin
nomas
(gen.
nomadis
) from Gr, origin, originally , roaming about for pasture from
nemein
, to pasture, origin, originally , to distribute: see -nomy
---
nomad
noun
A member of a group of people who have no fixed home and move according to the seasons from place to place in search of food, water, and grazing land.
A person with no fixed residence who roams about; a wanderer.
Origin of nomad
French
nomade
from
Latin
nomas
nomad-
from
Greek
nomas
wandering in search of pasture
; see
nem-
in Indo-European roots.
Related Forms:
---
nomad

Noun
(plural nomads)
A member of a group of people who, having no fixed home, move around seasonally in search of food, water and grazing etc.
A wanderer.
---
nomad - Computer Definition
A relational DBMS for IBM mainframes, PCs and VAXes from Select Business Solutions, Trumbull, CT (www.selectbs.com). Introduced in the mid-1970s, it was one of the first database systems to provide a non-procedural language for data manipulation. NOMAD can also access data on Oracle, Sybase, DB2 and other databases. Former corporate owners of NOMAD include Thomson Software and the Gores Technology Group.
---