verb
The definition of grazing is eating small amounts of food throughout the day or when animals eat grass in a pasture.

An example of grazing is snacking on some carrots before lunch and then eating a few cubes of cheese for lunch.
An example of grazing is a cow eating grass in a field.
YourDictionary definition and usage example. Copyright © 2013 by LoveToKnow Corp.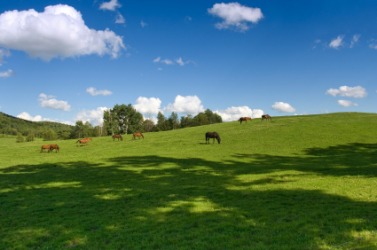 Grazing land.
Licensed from iStockPhoto
---
noun
land to graze on; pasture

Informal

the eating of snacks all day long or the eating of small portions of different foods
Webster's New World College Dictionary
Copyright © 2010 by Wiley Publishing, Inc., Cleveland, Ohio.
Used by arrangement with John Wiley & Sons, Inc.
grazing
Variant of graze
transitive verb
grazed, grazing
to feed on (growing grass, herbage, a pasture, etc.)
to put livestock to feed on (growing grass, herbage, etc.)
to tend (feeding livestock)
to feed on the pasturage of (land)
Origin: Middle English grasen from Old English grasian from base of græs, gærs, grass
intransitive verb
to feed on growing grass, etc.

Informal

to snack all day instead of eating regular meals
to eat small portions of different foods, as appetizers or samples of entrees