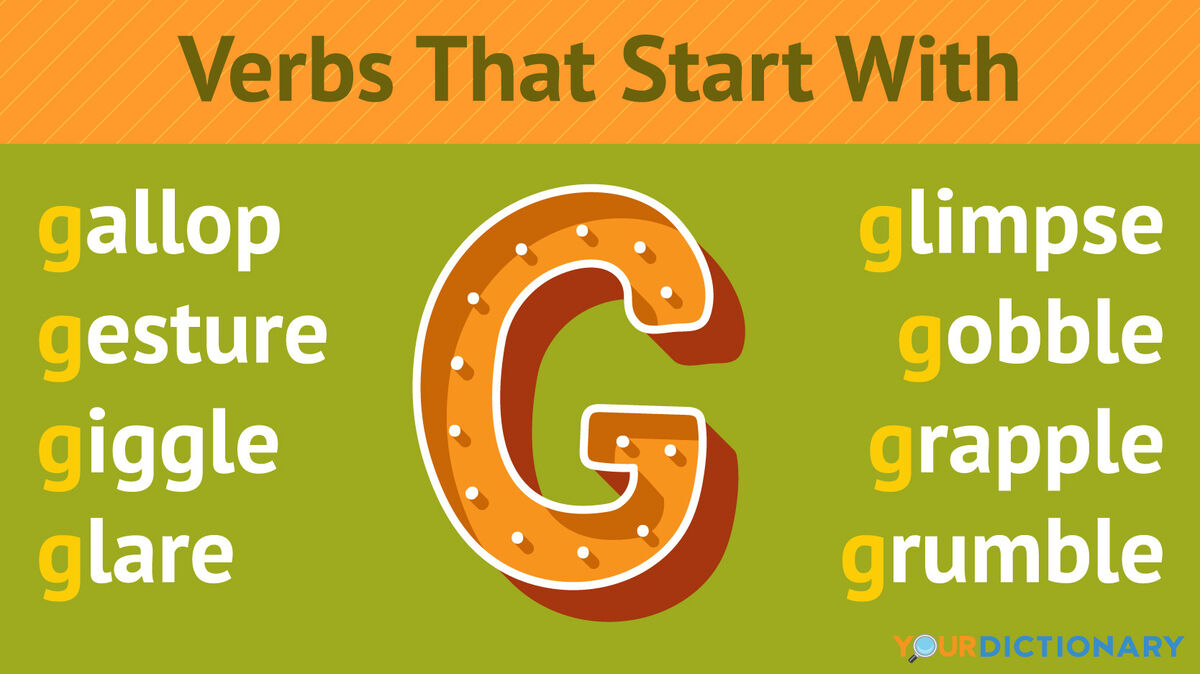 In their primary function, verbs are words that express action. For example, go and guzzle are verbs. They also work in other capacities, such as with linking verbs and helping verbs. But, by and large, verbs are the action-givers of a sentence. Get a list of verbs that start with "g" along with some example sentences.

In this series, you've been walking through the alphabet, exploring verbs that start with "a" and continuing all the way through to the end. Enjoy 50 popular "g" verbs in the English language along with one of their definitions. There is also a short list of synonyms for each verb.
| | | |
| --- | --- | --- |
| Verb | Definition | Synonym |
| gain | to add on or increase | augment, expand, enlarge |
| gallop | to hurry or move quickly | spring, leap, jump |
| gape | to open the mouth widely, such as to yawn or in surprise | goggle, gawk, stare |
| gargle | to rinse or wash the throat with a liquid | irrigate, mouthwash, swish |
| gather | to be led to believe; to infer | assume, deduce, find |
| gawk | to stare | eyeball, gape, gaze |
| generate | to produce, create or cause to be | beget, procreate, propagate |
| gesture | moving your body in a way that conveys a feeling or emotion | motion, signal, gesticulate |
| get | to receive | acquire, obtain, procure |
| giggle | to laugh in a silly way | snicker, chuckle, laugh |
| give | to hand, present or place | administer, allocate, render |
| glare | to stare at | pierce, gaze, glower |
| glean | to obtain information | learn, discover, gather |
| glide | to float | sail, skate, soar |
| glimpse | to catch a quick look at something | glance, peek, gander |
| glisten | to reflect light | sparkle, shine, glitter |
| gloat | to exclaim triumph | crow, exult, brag |
| glow | to give off a light | shine, radiate, gleam |
| gnaw | to bite and wear away a small part at a time | crunch, chomp, masticate |
| go | to move or leave | advance, depart, pass |
| goad | to urge someone or an animal to take a specific action | ease, needle, prod |
| gobble | to eat up quickly | cram, stuff, scarf |
| google | to look up information using an online search engine | search, lookup |
| gossip | to tell secret information to another | rumor, tattle, blab |
| gouge | to create a dent or rough hole | scoop, chisel, channel |
| govern | to influence; to hold in check | rule, command, reign |
| grab | to hook | capture, confiscate |
| graduate | to complete a school program | certify, finish |
| grant | to gift | contribute, donate, gift |
| grapple | to grab, wrestle | attack, claw, wrestle |
| grasp | to hold, grip | clasp, clench, clutch |
| gratify | to give pleasure; to satisfy | delight, indulge, satisfy |
| graze | to feed on | browse, nibble, feed |
| greet | to meet or acknowledge | welcome, salute, address |
| grieve | to mourn | ache, bemoan, lament |
| grimace | to make an unpleasant face or twist up your facial features | contort, distort, scowl |
| grin | to smile | smirk, beam, smile |
| grind | to crush or reduce to a powder | compress, crunch, crush |
| groan | to give a deep sound of pain or displeasure | complain, gripe, grumble |
| groom | to clean yourself or an animal | brush, clean, comb |
| grovel | to abase or demean oneself | beg, fawn, wallow |
| grow | to become larger, evolve | cumulate, germinate, increase |
| growl | to make a low, rumbling sound in the throat to express hostility or anger | bark, gnarl, howl |
| grumble | to complain | begrudge, bellyache, whine |
| guarantee | to pledge or promise | stake, back, assure |
| guess | to predict, assume or estimate | conjecture, infer, surmise |
| gulp | to drink | devour, guzzle, swill |
| gurgle | to flow with a bubbling or rippling sound | babble, burble, sputter |
| gush | to speak with overwhelming enthusiasm | flood, surge, pour |
| guzzle | to drink | gorge, gulp, imbibe |
10 Example Sentences of Verbs That Start With G
Ready to take a gander at your "g" verbs in action? Here are ten of them in their respective roles as heavy-lifters.
Let's gallop across the smooth terrain.
These desk lamps generate a lot of heat.
She giggled at me.
Did you catch a glimpse of the stars last night?
You should never gloat when you win a round of dominoes.
It seems all the cows do is graze all day.
Why did she grimace at him?
Her dog growled low.
Can you guarantee delivery by tomorrow?
The creek gurgled so beautifully next to me.
The basic formula for a sentence is subject + verb + direct object. Verbs are the heavy lifters that carry out the action of a sentence. They put the subject of the sentence into motion. In the sentence, "Gary gulped water," "Gary" is the subject, "gulped" is the verb and "water" is the direct object. Let's explore a few of the different types of verbs.
The most common type is an action verb. These are verbs that indicate things you can do. For example, grumble and guarantee are action verbs. They're performing specific tasks.
Another common form is the helping verb. These help the main verb of the sentence, extending its meaning. Using an example of a verb that starts with "g," if we said, "Ginger is graduating from medical school," then "is" would be the helping verb to the main (action) verb "graduating."
There are also linking verbs. These verbs don't express an action. Rather, they connect the subject of the sentence to the additional information that's about to come. Linking verbs are often "to be" verbs, including "am," "is," "are," and "were." However, grow can also be used as a linking verb. An example would be, "She slowly grew to feel she was wasting her time."
For more on the different variations, explore what is a verb to see all the types at play.

Guaranteed Vocabulary Growth
The best way to build our vocabularies is to read, read, read. But, from time to time, it's nice to scan word lists to pick up a new word or phrase. Take a peek at these adjectives that start with "g" and see if you can add a few new descriptors to your next short story or poem! Then, build on these "g" verbs by discovering even more words that start with "g." Next, you can walk through the alphabet and explore verbs that start with "h," or you can dip into the land of descriptors.