food

food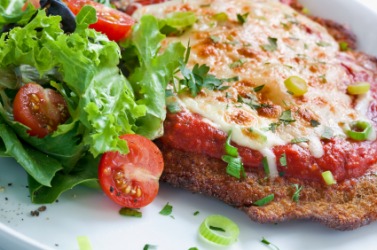 This chicken parmigiana is food.
noun
The definition of food is nourishment taken into the body.

An example of food is chicken parmigiana.
---
food
any substance taken into and assimilated by a plant or animal to keep it alive and enable it to grow and repair tissue; nourishment; nutriment
solid substances of this sort
a specified kind of food
anything that nourishes or stimulates; whatever helps something to keep active, grow, etc.: food for thought
Origin of food
Middle English
fode
from Old English
foda
from Indo-European
p?t-
, to feed, eat from base an unverified form
p?-
, to pasture cattle from source Classical Latin
pastor, pabulum, pascere
, to feed,
panis
, bread
of or relating to food
used as food
---
food
noun
Material, especially carbohydrates, fats, and proteins, that an organism uses for energy, growth, and maintaining the processes of life. Plants, algae, and some bacteria make their own food through photosynthesis, while animals and most other organisms obtain food by consuming other organisms or organic matter.
A specified kind of nourishment: breakfast food; plant food.
Nourishment eaten in solid form: food and drink.
Something that nourishes or sustains in a way suggestive of physical nourishment: food for thought.
Origin of food
Middle English
fode
from
Old English
fōda
; see
pā-
in Indo-European roots.
---
food

Noun
(usually uncountable, plural foods)
(uncountable) Any substance that is or can be consumed by living organisms, especially by eating, in order to sustain life.

The innkeeper brought them food and drink.

(countable) A foodstuff.

This shop stocks many hundreds of different foods.

(uncountable, figuratively) Anything intended to supply energy or nourishment of an entity or idea.

The man's inspiring speech gave us food for thought.
Usage notes
Adjectives often applied to "food": raw, cooked, baked, fried, grilled, processed, healthy, unhealthy, wholesome, nutritious, safe, toxic, tainted, adulterated, tasty, delicious, fresh, stale, sweet, sour, spicy, exotic, marine.
Origin
From Middle English fode, fude, from Old English fōda ("food"), from Proto-Germanic *fōdô ("food"), from Proto-Indo-European *peh₂- ("to guard, graze, feed"). Cognate with Scots fuid ("food"), Low German föde, vöde ("food"), Danish føde ("food"), Swedish föda ("food"), Icelandic fæða, fæði ("food"), Gothic (fōdeins, "food"), Latin pānis ("bread, food"), Latin pāscō ("feed, nourish", verb). Related to fodder, foster.
---