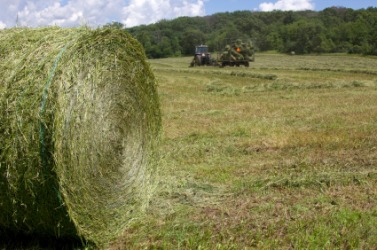 This alfalfa can be used for fodder.
noun
The definition of fodder is art material or something that is in high demand and often poor quality.

An example of fodder is colored tissue paper.
An example of fodder is the Star news magazine.

Fodder is defined as a coarse food given to farm animals.

An example of fodder is alfalfa hay.
---
fodder
coarse food for cattle, horses, sheep, etc., as cornstalks, hay, and straw

something, esp. information, that is thought of as being in large supply and, often, inferior, raw or coarse, etc.: promotional fodder in mass media
the basis or basic material for something: fodder for celebrity gossip
Origin of fodder
Middle English from Old English
fodor
(akin to German
futter
) from base of
foda
, food
---
fodder
noun
Feed for livestock, especially coarsely chopped hay or straw.
Raw material, as for artistic creation.
A consumable, often inferior item or resource that is in demand and usually abundant supply: romantic novels intended as fodder for the pulp fiction market.
transitive verb
fod·dered, fod·der·ing, fod·ders
To feed with fodder.
Origin of fodder
Middle English
from
Old English
fōdor
; see
pā-
in Indo-European roots.
---
fodder

Noun
(countable and uncountable, plural fodders)
Food for animals; that which is fed to cattle, horses, and sheep, such as hay, cornstalks, vegetables, etc.
A weight by which lead and some other metals were formerly sold, in England, varying from 19 1/2 to 24 cwt (993 to 1222 kg).; a fother.
(slang, drafting, design) Tracing paper.
(figuratively) Something which serves as inspiration or encouragement, especially for satire or humour.
Verb
(third-person singular simple present fodders, present participle foddering, simple past and past participle foddered)
(dialect) To feed animals (with fodder).
Origin
From Middle English, from Old English fōdor, from Proto-Germanic *fōdrą (compare West Frisian foer, Dutch voer 'pasture, fodder', German Futter 'feed', Danish and Swedish foder), from *fōdô 'food', from Proto-Indo-European *pat- 'to feed', *peh₂- ("to guard, graze, feed"). More at food.
---