hay

hay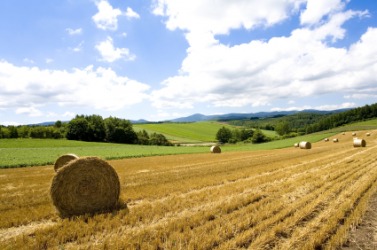 A field of hay.
noun
Hay is defined as cut and dried grass, alfalfa and other plants used as food for farm animals.

An example of hay is what is fed to sheep.
---
hay
grass, alfalfa, clover, etc. cut and dried for use as fodder

Slang

a negligible amount, esp. of money: in negative constructions: a hundred dollars ain't hay
Origin of hay
Middle English
hei
from Old English
hieg
(akin to German
heu
) from base of Old English
heawan
, to cut: see hew
to mow grass, alfalfa, etc., and spread it out to dry
to furnish with hay
to grow grass on (land) for hay
a roll in the hay
Slang
the act or an instance of sexual intercourse
hit the hay
Slang
to go to bed to sleep
make hay
to mow grass, alfalfa, etc., and spread it out to dry
to make the most of an opportunity

also

make hay while the sun shines
make hay (out) of something
to turn something to one's advantage
an old country dance with much winding in and out
Origin of hay
Old French
haye
Hay
1838-1905; U.S. statesman & writer: secretary of state (1898-1905)
---
hay
noun
Grass or other plants, such as clover or alfalfa, cut and dried for fodder.
Slang A trifling amount of money: gets $100 an hour, which isn't hay.
verb
hayed, hay·ing, hays
verb
intransitive
To mow and cure grass and herbage for hay.
verb
transitive
To make hay on (a patch of land).
To make (grass or other plants) into hay.
To feed with hay.
Origin of hay
Middle English
from
Old English
hīeg
; see
kau-
in Indo-European roots.
Related Forms:
---
hay

Noun
(countable and uncountable, plural hays)
(countable) Any mix of green leafy plants used for fodder.
Verb
(third-person singular simple present hays, present participle haying, simple past and past participle hayed)
To cut grasses or herb plants for use as animal fodder.
Origin
Middle English hey, from Old English hīġ, hīeġ, from Proto-Germanic *hawją (cf. West Frisian hea, Dutch hooi, German Heu), from *hawwaną 'to hew, cut down'. More at hew.
Noun
(plural hays)
The name of the letter for the h sound in Pitman shorthand.
---