marijuana
mar·i·jua·na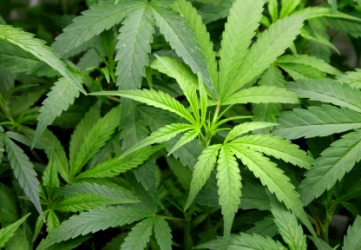 A marijuana plant.
noun
The definition of marijuana is the leaves of a cannabis plant that are used as a drug that can be smoked or consumed in order to create a feeling of being euphoric or "high."

An example of marijuana is the leaves of a plant that people roll up into the form of a cigarette in order to smoke and get high.
---
marijuana
⌂ or mar·i·hua′na
hemp ()
its dried leaves and flowers, smoked, esp. in the form of cigarettes, for euphoric effects
Origin of marijuana
American Spanish
marihuana, mariguana
; from uncertain or unknown; perhaps native word blended with personal name
María Juana
, Mary Jane
---
marijuana
also mar·i·hua·na
noun
The cannabis plant.
The dried flower clusters and leaves of this plant, smoked or ingested as an illicit drug to induce euphoria. In certain jurisdictions, its use is permitted for its presumed benefits in treating symptoms associated primarily with cancer and AIDS, such as nausea and loss of appetite.
Origin of marijuana
Spanish
marihuana
.
---
marijuana
Noun
(uncountable)
Drug smoked or ingested for euphoric effect, Cannabis (drug).

After smoking a bowl of that fine marijuana, they ate some brownies.

The hemp plant itself, Cannabis sativa.
---