herb

herb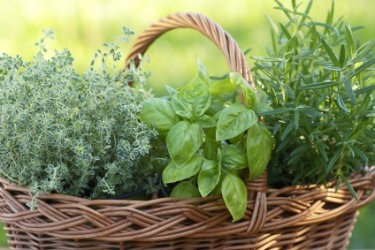 A basket of fresh herbs.
noun
The definition of an herb is a flavorful plant used to season food in cooking or a plant used as medicine.

An example of an herb is basil.
An example of an herb is mint, used to soothe an upset stomach.

Herb is defined as slang for marijuana.

An example of herb is what you might put into a joint, or a marijuana cigarette.
---
herb
any seed plant whose stem withers away to the ground after each season's growth, as distinguished from a tree or shrub whose woody stem lives from year to year
any plant used as a medicine, seasoning, or flavoring: mint, thyme, basil, and sage are herbs
vegetative growth; grass

Slang

marijuana
Origin of herb
Middle English
erbe, herbe
from Old French from Classical Latin
herba
, grass, herbage, herb from Indo-European an unverified form
gherdha
from base an unverified form
gher-
from source grass
---
herb
noun
A plant whose stem does not produce woody, persistent tissue and generally dies back at the end of each growing season.
Any of various often aromatic plants used especially in medicine or as seasoning.
Slang Marijuana.
Origin of herb
Middle English
herbe
from
Old French
erbe
from
Latin
herba
Related Forms:
---
herb

---