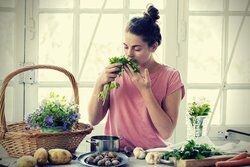 The Shell Seekers by Rosamund Pilcher
A vignette is a short, descriptive scene. It's beautifully crafted in finite detail. Vignettes are intended to leave an impression on the audience's mind. You might find a vignette in works of fiction or nonfiction, essays, films, and theatrical scripts. It'll focus on a particular moment and provide more information about a character, theme, mood, or idea.
Vignettes aren't plots or full narratives. Rather, they're carefully sketched scenes within a larger work. Let's review a few vignette examples. You'll notice the careful attention to detail in each sample.
Examples of Vignettes in Literature
Books are a great place to look for vignette examples.
In Our Time, Ernest Hemingway
In our first example, we'll explore Ernest Hemingway's vivid vignette from In Our Time. It features the main character, Maera - a bullfighter, dying from injuries inflicted by a bull. It brings on an intense sensation of death, almost as though we're knocking on death's door alongside him.
Maera lay still, his head on his arms, his face in the sand. He felt warm and sticky from the bleeding. Each time he felt the horn coming. Sometimes the bull only bumped him with his head. Once the horn went all the way through him and he felt it go into the sand … Maera felt everything getting larger and larger and then smaller and smaller. Then it got larger and larger and larger and then smaller and smaller. Then everything commenced to run faster and faster as when they speed up a cinematograph film. Then he was dead.
The Shell Seekers, Rosamunde Pilcher
Whenever a character is momentarily stunned or surprised, a vignette will help the reader embrace the feeling of shock. Here's a scene from the novel The Shell Seekers by Rosamunde Pilcher. The character is surprised by the room he walks into and we feel his awe.
He put down his grip and gazed about him. Saw the long, scrubbed table, the motley variety of chairs, the pine dresser laden with painted pottery plates and jugs and bowls. Copper saucepans, beautifully arranged by size, hung from a beam over the stove, along with bunches of herbs and dried garden flowers. There were a basket chair, a shining white refrigerator, and a deep white china sink beneath the window, so that any person impelled to do the washing-up could amuse himself at the same time by watching people'e feet go by on the pavement. The floor was flagged and scattered with rush-mate, and the smell was of garlic and herbs, like a French country epicerie. He could hardly believe his eyes. "Is this your kitchen?"
Whiskey Beach, Nora Roberts
Death is significant enough topic to warrant a spotlight, or a vignette. Here's another example of the sensation of dying, expertly illustrated by author Nora Roberts in Whiskey Beach.
He didn't see the gun. As with the footsteps, the fog muffled the shots so they sounded low, thick, odd. They puzzled him in that instant of shocking pain. He never reached for his own gun; it never occurred to him. He fell, eyes wide, mouth working. But the words were only gurgles. He heard, as if from a great distance, his killer's voice. "I'm sorry. It wasn't supposed to be like this." He didn't feel his hands searching, taking his phone, his recorder, his keys, his weapon. But he felt cold - biting, numbing cold. And unspeakable pain through it as his body was dragged to the edge over rocky ground. For an instant he thought he was flying, wind rushing cool over his face. Then the thundering water swallowed him as he hit the rocks below.
Examples of Vignettes in Television and Film
In television and film, vignettes often come in the form of a flashback. They're vivid flashes of memories that emphasize or illuminate the character's emotions.
The first vignette below is important because the main character, Special Agent Gibbs from NCIS, is in a coma similar to the one he faced nearly 20 years ago. Each time he was comatose, his subconscious was ravaged by heart-wrenching flashbacks to the wife and daughter he lost in a terrible act of violence.
In the episode titled Hiatus: Part 1, Gibbs flashes to a time when he was injured in the service of his country. As soon as he recovered, he hobbled on crutches to look at his wife's totaled car. It's drenched in her blood, as well as his daughter's. After staring into the car, Gibbs goes into Special Agent Mike Franks' office and reviews the evidence against the man who killed them. Later in the flashback, Gibbs contemplates suicide; we see him sitting there with a gun to his head.
Orange Is the New Black quickly became a cult classic. It details the story of several women facing various prison sentences. One of the inmates is a woman named Suzanne who exhibits erratic behavior and has wide, rather noticeable eyes. As such, the other inmates gave her the cruel nickname of "Crazy Eyes."
In the episode titled Hugs Can Be Deceiving, we walk through Suzanne's flashback of a sleepover party. In it, we learn she's always been a bit of a wild card. People always considered her to be eccentric and unrelatable. Indeed, her status as an outcast continues in prison, hence the not-so-nice nickname.
Woody Allen's film Midnight in Paris is an array of picturesque vignettes. The main character, Gil, travels back in time from 2010 to 1920s Paris. This provides opportunity after opportunity for steal-your-breath scenes, many of which fall into the vignette category.
While in Paris, Gil falls in love with the beautiful Adriana. One night, as they stroll through Paris under a blanket of stars, they're transported even further back in time to the Belle Epoque. This was a famous period in Paris, at the turn of the 20th century, when renowned artists created waves of masterpieces.

While at the Moulin Rouge, Gil and Adriana bump into Henri de Toulouse-Lautrec, Paul Gaugin, and Edgar Degas. Adriana is so enamored, she pulls Gil aside and tells him she's going to stay there forever. They have a heated exchange where he tries to convince her to stay in the 1920s but, in the end, Gil ends up going home alone.
In 2006, The Office introduced ten stand-alone webisodes on NBC.com. It took two days to film them and they were called The Accountants. These webisodes served as "mini" episodes between seasons of the main show.
The first webisode, titled The Books Don't Balance, focuses on three members of the accounting department. The webisode opens up with these three characters informing their boss that $3,000 is gone and it is not an accounting error.

The webisode cuts from the conference room table to short interviews with each individual member, two of whom are pointing the finger at one another. From there, the three go on to interview various members of the office to figure out where it went.
They say literature and film are forms of escapism. We can check out of our own lives for a time and walk in someone else's shoes. While the entire story is meant to paint a picture or convey a theme, smaller scenes and colorful vignettes can stop time. For more on how to shape the mood of a scene, enjoy these examples of mood in literature.