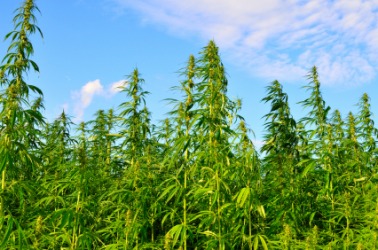 Hemp plants.
---
hemp
noun
a tall Asiatic herb (Cannabis sativa) of the hemp family, grown for the tough fiber in its stem
the fiber, used to make rope, sailcloth, etc.
a substance, such as marijuana, hashish, etc., made from the leaves and flowers of this plant

any of various plants yielding a hemplike fiber, as the sisal or Manila hemp
this fiber
Origin of hemp
Middle English ; from Old English
hænep
(akin to German
hanf
, Dutch
hennep
) ; from Proto-Germanic an unverified form
hanapa-
; from an unverified form
kanab-
, a pre-Gmc borrowing ; from a (? Scythian) base from source Classical Greek
kannabis
: akin uncertain or unknown; perhaps to Sumerian
kunibu
, hemp
adjective
designating a family (Cannabaceae, order Urticales) of dicotyledonous plants, including hops
---
hemp
noun
Cannabis.
The tough, coarse fiber of the cannabis plant, used to make cordage, yarn, and fabric.

a. Any of various plants similar to cannabis, especially one yielding a similar fiber.

b. The fiber of such a plant.
Origin of hemp
Middle English, from Old English
hænep
.
---
hemp
Origin
From Middle English, from Old English hænep, from Proto-Germanic *hanapiz (compare Dutch hennep, German Hanf, Danish hamp), borrowed from Scytho-Sarmatian (compare Ossetian гӕн(ӕ) (gæn(æ)) 'flax', Khotanese kaṃhā 'hemp'). See cannabis.
---