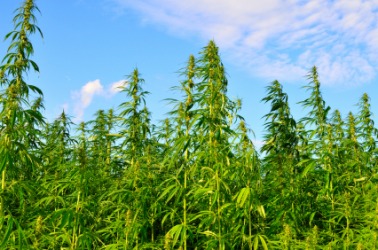 Hemp plants.
---
hemp definition by Webster's New World
noun
a tall Asiatic herb (Cannabis sativa) of the hemp family, grown for the tough fiber in its stem
the fiber, used to make rope, sailcloth, etc.
a substance, such as marijuana, hashish, etc., made from the leaves and flowers of this plant

any of various plants yielding a hemplike fiber, as the sisal or Manila hemp
this fiber
Origin: Middle English ; from Old English hænep (akin to German hanf, Dutch hennep) ; from Proto-Germanic an unverified form hanapa- ; from an unverified form kanab-, a pre-Gmc borrowing ; from a (? Scythian) base from source Classical Greek kannabis: akin uncertain or unknown; perhaps to Sumerian kunibu, hemp
adjective
designating a family (Cannabaceae, order Urticales) of dicotyledonous plants, including hops
Webster's New World College Dictionary Copyright © 2010 by Wiley Publishing, Inc., Cleveland, Ohio. Used by arrangement with John Wiley & Sons, Inc.
---
hemp definition by American Heritage Dictionary
noun
Cannabis.
The tough, coarse fiber of the cannabis plant, used to make cordage.

a. Any of various plants similar to cannabis, especially one yielding a similar fiber.

b. The fiber of such a plant.
Origin: Middle English, from Old English hǽnep.