noun
The definition of jute is a strong fiber made from a plant, or a Germanic person who lived in Kent England in the 5th century.

An example of jute is a fiber used to make rope.
An example of a jute is a person who lived in Jutland, England before invading South East England.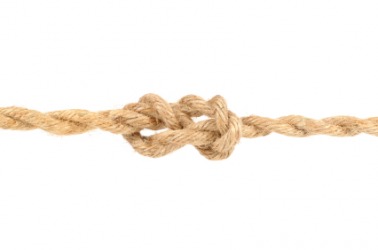 A piece of knotted jute rope.
---
jute definition by Webster's New World
noun
a strong, glossy fiber used for making burlap, sacks, mats, rope, etc.
either of two S Asian plants (Corchorus capsularis and C. olitorius) of the linden family, which yield this fiber
Origin: Hindi jhuto ; from Sanskrit jūta, matted hair, jata, braid of hair, fibrous roots
noun
a member of an ancient Germanic people that lived in Jutland: Jutes invaded SE England in the 5th cent. , settling in what became Kent
Origin: ; from Middle English Jutes, plural ; from Midieval Latin Jutae or Old English Iotas ; from Old Norse Iōtar
Webster's New World College Dictionary Copyright © 2010 by Wiley Publishing, Inc., Cleveland, Ohio. Used by arrangement with John Wiley & Sons, Inc.
---
jute definition by American Heritage Dictionary
noun
Either of two Asian plants (Corchorus capsularis or C. olitorius) yielding a fiber used for sacking and cordage.
The fiber obtained from these plants.
Origin: Bengali jhuṭo, from Sanskrit jūṭaḥ, twisted hair, probably of Dravidian origin.
noun
A member of a Germanic people who invaded Britain in the fifth and sixth centuries A.D. and settled in the south and southeast and on the Isle of Wight.
Origin: From Middle English Jutes, the Jutes, from Medieval Latin Iutae, from Old English Iotas, Iutan; akin to Old English Gēat, Geat.