jut

jut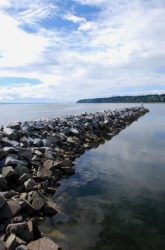 A rock wall juts out into the water.
noun
The definition of a jut means something that sticks out.

An example of a jut is a boat dock that sticks out into the lake.
verb
Jut is defined as to stick out.

An example of jut is for a shelf to stick out from a wall.
---
jut
intransitive verb
transitive verb
jut′ted

,

jut′ting
to stick out; project
Origin of jut
probably variant, variety of jet
---
jut
verb
jut·ted, jut·ting, juts
verb
intransitive
To extend outward or upward beyond the limits of the main body; project:
"He had a sharp crooked nose jutting out of a lean dancer's face"
(
Graham Greene
) See Synonyms at
bulge
.
verb
transitive
To cause to jut.
noun
The act or condition of jutting: a pronounced jut of the chin.
Something that protrudes; a projection: "a jut of untrimmed mustache" ( William Faulkner )
Origin of jut
Middle English
jutten
from
gete, iutei
jetty, projecting upper story
from
Old French
jetee
; see
jetty
1
.
---
jut

Noun
(plural juts)
something that sticks out
Verb
(third-person singular simple present juts, present participle jutting, simple past and past participle jutted)
(intransitive) to stick out

the jutting part of a building
---