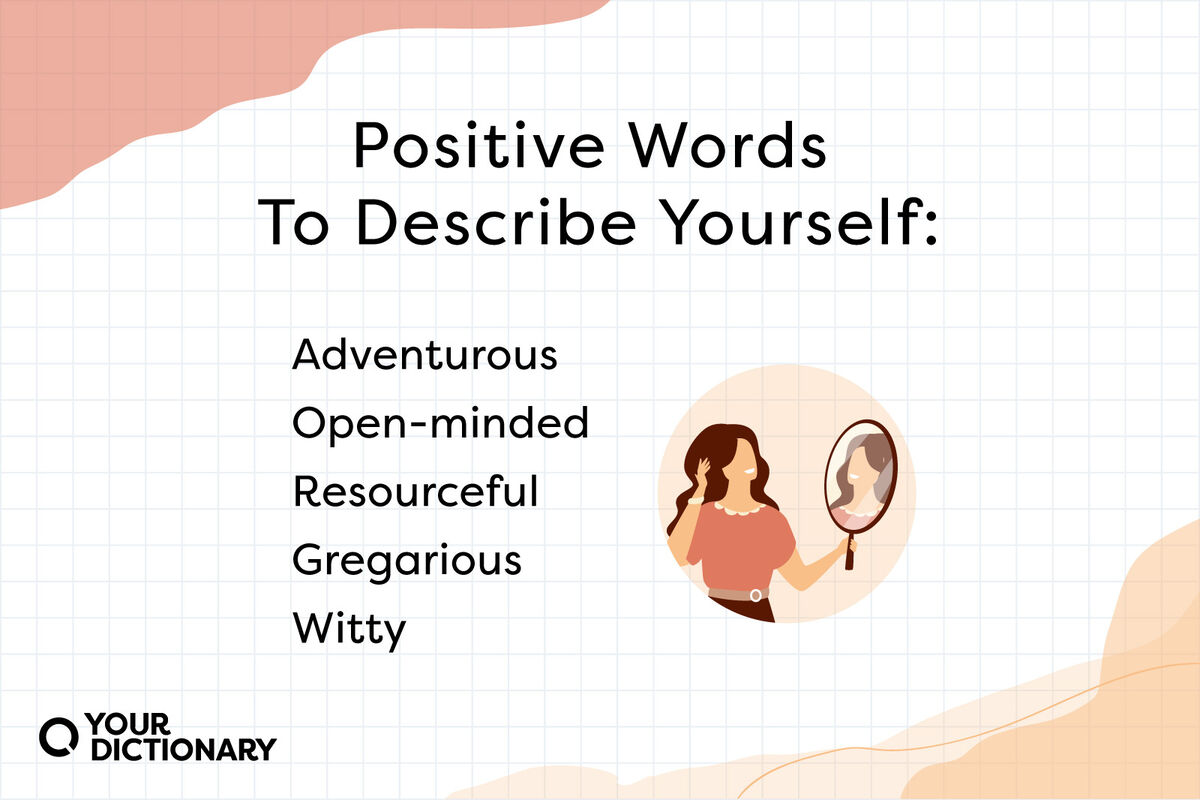 Everyone has trouble talking about themselves. Trying to sum up your entire personality, life experiences, and complexities in a few words is like trying to stuff your body into a sock. Whether you're making a new social media profile, writing a cover letter, or introducing yourself to your new class, you need some solid, positive adjectives to paint a real mental picture of your unique, glowing personality.
Ideal Words To Describe Yourself in a Cover Letter or Resume
Trying to describe yourself on a piece of paper is hard. Describing yourself in a cover letter or resume is even harder. You're trying to convince someone to give you money, and jut a few choice words are what separate you from getting an interview or surfing the classified ads.
The Best Words To Describe Yourself in an Interview
Once you've landed the interview, it's time to turn on the charm. A lot of the words you used in your cover letter or resume still apply, but in an interview, you need some solid words to describe yourself in a positive, professional way without seeming too stuck up or full of yourself.
Words To Describe Yourself in Professional Profiles
If you have a LinkedIn or other professional social media account, you need to write a quick little bio or profile to get coworkers, bosses, and potential future collaborators interested in you as a person. You also don't want to sound like a weird corporate robot, so you need the right words to thread that needle.
Awesome Adjectives To Describe Yourself in School
You can use a lot of the same professional adjectives for your personal essays, college applications, and other autobiographical assignments, though your school chums might be less impressed about you being "goal-oriented" or "versatile." 
Great Words To Describe Yourself in a Dating Profile
Describing yourself in a dating profile is a thankless task. Much like a job application, you're trying to sell yourself to get the interview (or, in this case, a date). Use the right words, and you'll get the right match and spend your life sharing pizzas with someone you love. Use the wrong words, and you're destined for heartbreak and more lonely weekends nursing a personal pizza.
Words To Describe Yourself in Your Personal Social Media
Outside of dating and setting up a professional website, you need some words to describe yourself in your personal profiles and bios. It's thankfully pretty straightforward. Most people put in their basic profession (marine biologist, writer, juggler), but you can add a little zest with some simple descriptors:
Words To Avoid When Describing Yourself
As long as you're being positive in your self-talk, you generally can't go wrong, but for certain professional or academic situations, you might want to avoid certain words, including:
amazing
awesome
funny
humble
motivated
smart or intelligent
unique
Again, there's nothing "bad" about these words. They just aren't particularly great at describing a person. Some, especially amazing, awesome, and motivated, are too broad to really mean anything. Some are too subjective. For example, you might think you're funny, but other people might think you have as much humor as a sea slug.
Tips for Choosing Words To Describe Yourself
Brainstorm Your Best Qualities
When you had to write a paper or work on a project, you were probably told to brainstorm to come up with some good ideas. Treat yourself the same way. Think about yourself from every angle and ask yourself questions:
What are some of the positive personality traits that people have told you about time and again?
What are your strengths?
What's something about you that makes you happy?
There are plenty of ways to do self-assessments. There are quizzes online, some of which may also be available from your employer. Taking self-assessments will help you come up with the perfect descriptive phrases that describe you.
Interview Friends and Family
One of the best ways to get a great idea of the impressions people have of you is to ask them. Sometimes, people you know can tell you things that you do not know about yourself. They can give you good examples of what they see in you.
Write a Personal Statement
While it might feel awkward to think about yourself so much, describing yourself in positive ways is good for your mental health. As an exercise, choose three to five words to describe yourself and try writing a personal statement that includes them all.