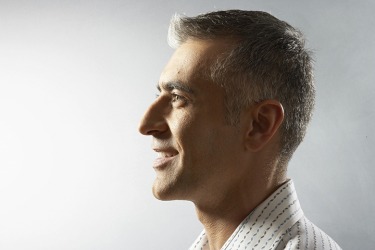 The man's profile image shows how the nose protrudes from the face.
verb
To protrude is defined as to stick out.

An example of to protrude is what a nose does from a face.
---
protrude
transitive verb
intransitive verb
-·trud′ed

,

-·trud′ing
to thrust or jut out; project
Origin of protrude
Classical Latin
protrudere
from
pro-
, forth +
trudere
, to thrust
---
protrude
verb
pro·trud·ed, pro·trud·ing, pro·trudes
verb
intransitive
To extend or jut out; project. See Synonyms at
bulge
.
verb
transitive
To push or thrust outward: muscles that allow the tongue to be protruded.
Origin of protrude
Latin
prōtrūdere
prō-
forward
; see
pro-
1
.
trūdere
to thrust
; see
treud-
in Indo-European roots.
Related Forms:
---
protrude

Verb
(third-person singular simple present protrudes, present participle protruding, simple past and past participle protruded)
To thrust forward; to drive or force along.

To thrust out, as through a narrow orifice or from confinement; to cause to come forth.
Origin
From Latin prōtrūdō, prōtrūdere.
---