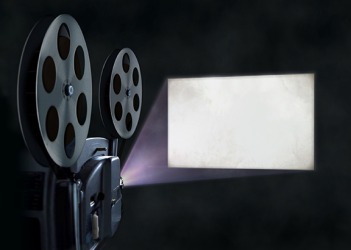 A movie projector
noun
The definition of a projection is something that is shown on a screen at a distance, or something that sticks out, or a future estimate or prediction made from current information, or when you assume that someone has the same emotions or feelings that you do.

An example of a projection is a movie.
An example of a projection is a bar coming out of a wall.
An example of a projection is a bank guessing what future interest rates will be.
An example of projection is seeing a sad person while you're sad and assuming they are sad for the same reasons.
---
projection
a projecting or being projected
something that projects, or juts out
something that is projected; specif.,

in map making, the representation on a plane of the earth's surface (or the celestial sphere) or of a part thereof
any of various other two-dimensional pictorial representations of a three-dimensional object: axonometric projection

a prediction or advance estimate based on known data or observations; extrapolation

Psychiatry

the unconscious act or process of ascribing to others one's own ideas, impulses, or emotions, esp. when they are considered undesirable or cause anxiety

Photog.

the process of projecting an image, as from a transparent slide, upon a screen, etc.
Origin of projection
Middle French from Classical Latin
projectio
---
projection
noun
The act of projecting or the condition of being projected.
A thing or part that extends outward beyond a prevailing line or surface: spiky projections on top of a fence; a projection of land along the coast.
A plan for an anticipated course of action: "facilities

[that]

are vital to the projection of U.S. force … in the Pacific" ( Alan D. Romberg )
A prediction or estimate of something in the future, based on present data or trends.

a. The process of projecting an image onto a screen or other surface for viewing.

b. An image so projected.

Mathematics The image of a geometric figure reproduced on a line, plane, or surface.
A system of intersecting lines, such as the grid of a map, on which part or all of the globe or another spherical surface is represented as a plane surface.
Psychology

a. The attribution of one's own attitudes, feelings, or suppositions to others: "Even trained anthropologists have been guilty of unconscious projection—of clothing the subjects of their research in theories brought with them into the field" ( Alex Shoumatoff )

b. The attribution of one's own attitudes, feelings, or desires to someone or something as a naive or unconscious defense against anxiety or guilt.
Related Forms:
pro·jec′tion·al

adjective
---
projection

Noun
(plural projections)
Something which projects, protrudes, juts out, sticks out, or stands out.

The face of the cliff had many projections which are big enough for birds to nest on.

The action of projecting or throwing or propelling something.
The display of an image by devices such as movie projector, video projector, overhead projector or slide projector.
A forecast or prognosis obtained by extrapolation
(psychology) A belief or assumption that others have similar thoughts and experiences as oneself
(photography) The image that a translucent object casts onto another object.
(cartography) Any of several systems of intersecting lines that allow the curved surface of the earth to be represented on a flat surface. The set of mathematics used to calculate coordinate positions.
(linear algebra) An idempotent linear transformation which maps vectors from a vector space onto a subspace.
(mathematics) A transformation which extracts a fragment of a mathematical object.
(category theory) A morphism from a categorical product to one of its (two) components.
---
projection - Computer Definition
---