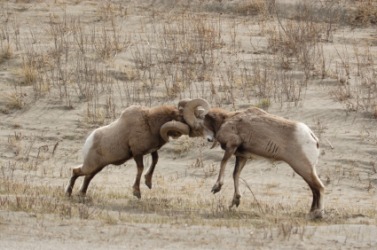 Two sheep who have bumped heads.
noun
The definition of a bump is a light jolt or a swollen, raised lump on the body.

An example of a bump is the act of two toy cars hitting each other.
An example of a bump is a welt on the hand.
verb
To bump is defined as to collide lightly.

An example of to bump is for a car to knock gently into the back of another.
---
bump
to hit or knock against with a jolt; collide lightly with

Slang

to displace, as from a job or plane reservation

Slang

to raise (a price, a bet in poker, etc.)
Origin of bump
echoic
to collide with a jolt
to move with jerks or jolts
a light blow or jolt
a swelling or lump, esp. one caused by a blow
in phrenology, any of the protuberances of the skull as interpreted with reference to one's mental faculties

Slang

a thrusting movement forward of the lower part of the torso, as in striptease dancing
bump into
Informal
to meet unexpectedly
---
bump
verb
bumped, bump·ing, bumps
verb
transitive
To strike or collide with: bumped the chair with a knee.
To cause to knock against an obstacle: bumped a knee against the chair.

a. To knock to a new position; shift: bumped the crate out of the way.

b. To shake up and down; jolt: bumped the child on her knee; was bumped about on a rough flight.

a. To displace from a position within a group or organization.

b. To deprive (a passenger) of reserved travel accommodations because of overbooking.

To raise; boost: bump up the price of gasoline.
Sports To pass (a volleyball) by redirecting it with the forearms.
verb
intransitive
To hit or knock against something: boxes bumping against one another in a truck.
To proceed with jerks and jolts: bumped along slowly over the rocky terrain.
Sports To bump a volleyball.
noun
a. A blow, collision, or jolt.

b. The sound of something bumping: heard a loud bump in the dark.

a. A raised or rounded spot; a bulge.

b. A slight swelling or lump.

A rise or increase, as in prices or enrollment.
A forward thrust of the pelvis, as in a burlesque striptease.
Sports A pass in volleyball made by redirecting the ball with the inside of the forearms, especially when extended and held together.
Slang

a. A small dose of an illegal drug, especially cocaine inhaled in powdered form.

b. A shot of hard liquor, sometimes accompanied by a beer chaser.
Phrasal Verbs:
bump into
To meet by chance:
I often bump into him at the supermarket.
bump off
Slang
To murder.
Origin of bump
Imitative
---
bump

---
bump - Computer Definition
---