drug

drug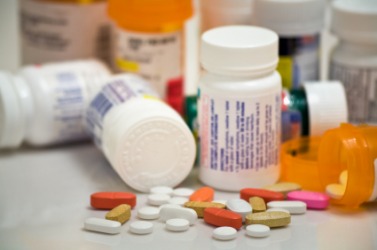 Bottles of different prescription drugs.
noun
The definition of a drug is a medication or an addictive substance.

An example of a drug is an antibiotic.
An example of a drug is marijuana.
verb
---
drug
any substance used as a medicine or as an ingredient in a medicine, which kills or inactivates germs or affects any bodily function or organ

Obs.

any substance used in chemistry, dyeing, etc.
a narcotic, hallucinogen, etc., esp. one that is habit-forming
Origin of drug
Middle English
drogge
from Old French
drogue
from uncertain or unknown; perhaps Low German
drooge (fat)
, dry (cask), the adjective mistaken as the name of the contents: see dry
transitive verb
drugged

,

drug′ging
to put a harmful drug in (a food, drink, etc.)
to administer a drug to
to stupefy with or as with a drug
drug on the market
a commodity for which there is little or no demand because the supply is so plentiful
---
drug
noun
a. A substance used in the diagnosis, treatment, or prevention of a disease or as a component of a medication.

b. Such a substance as recognized or defined by the US Food, Drug, and Cosmetic Act.

A chemical substance, such as a narcotic or hallucinogen, that affects the central nervous system, causing changes in behavior and often addiction.
Obsolete A chemical or dye.
transitive verb
drugged, drug·ging, drugs
a. To administer a drug to, especially to treat pain or induce anesthesia.

b. To give a drug to, especially surreptitiously, in order to induce stupor.

To poison or mix (food or drink) with a drug.
Origin of drug
Middle English
drogge
from
Old French
drogue
drug
perhaps from
Middle Dutch
droge (vate)
dry (cases)
pl. of
drog
dry
---
drug

Noun
(plural drugs)
(pharmacology) A substance used to treat an illness, relieve a symptom, or modify a chemical process in the body for a specific purpose.

Aspirin is a drug that reduces pain, acts against inflammation and lowers body temperature.
The revenues from both brand-name drugs and generic drugs have increased.

A psychoactive substance, especially one which is illegal and addictive, ingested for recreational use, such as cocaine.
Any commodity that lies on hand, or is not salable; an article of slow sale, or in no demand.
Usage notes
Adjectives often used with "drug": dangerous, illicit, illegal, psychoactive, generic, hard, veterinary, recreational
Verb
(third-person singular simple present drugs, present participle drugging, simple past and past participle drugged)
To administer intoxicating drugs to, generally without the recipient's knowledge or consent.

She suddenly felt strange, and only then realized she'd been drugged.

To add intoxicating drugs to with the intention of drugging someone.

She suddenly felt strange. She realized her drink must have been drugged.

(intransitive) To prescribe or administer drugs or medicines.
Origin
From Middle English drogge ("medicine"), from Middle French drogue ("cure, pharmaceutical product"), from Old French drogue, drocque ("tincture, pharmaceutical product"), from Middle Dutch or Middle Low German droge, as in droge vate ("dry vats, dry barrels"), mistaking droge for the contents, which were wontedly dried herbs, plants or wares. Droge comes from Middle Dutch drōghe ("dry"), from Old Dutch drōgi ("dry"), from Proto-Germanic *draugiz ("dry, hard"). Cognate with English dry, Dutch droog ("dry"), German trocken ("dry").
Verb
(Southern US) simple past tense and past participle of drag

You look like someone drug you behind a horse for half a mile.
Usage notes
Random House says that drug is "nonstandard" as the past tense of drag. Merriam-Webster once ruled that drug in this construction was "illiterate" but have since upgraded it to "dialect". The lexicographers of New World, American Heritage, and Oxford make no mention of this word.
Noun
(plural drugs)
(obsolete) A drudge.
---
drug - Legal Definition
n
v
A chemical or organic substance used to treat a medical or psychological condition; such a substance used illegally to alter consciousness or mood.
The act of giving someone such a substance, with the implication that it is against the recipient's will and has an adverse effect. See also controlled substance.
---