noun
The definition of a puff is a short gust of wind, a breath of air or a soft pastry.

An example of a puff is an inhaling of a cigarette.
An example of a puff is a pastry filled with whipping cream.
verb
To puff is defined as to blow in short bouts of wind or air, or to fill with air.

An example of to puff is to blow circles with smoke.
An example of to puff is to fluff up a down comforter, inflating the comforter with air.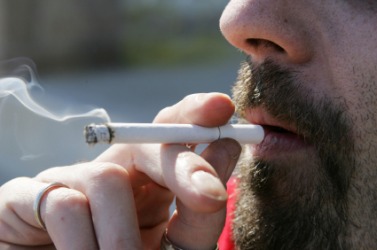 A man puffs a cigarette.
---
puff definition by Webster's New World
noun
a short, sudden burst or gust, as of wind, or an expulsion, as of breath
the sound of this
a small quantity of vapor, smoke, etc. expelled at one time

a draw at a cigarette, pipe, etc.
a swelling, or a protuberance caused by swelling
a shell of soft, light pastry filled with whipped cream, custard, etc.
a soft, bulging mass of material, full in the middle and gathered in at the edges
a soft roll of hair on the head
a soft pad for dabbing powder on the skin or hair
a quilted bed covering with cotton, wool, or down filling

Archaic

vain show; bluff
an advertisement, review, etc., as of a book, containing undue or exaggerated praise
Origin: Middle English puf ; from Old English pyff ; from the verb
intransitive verb
to blow in puffs, as the wind

to give forth puffs of smoke, steam, etc.
to breathe rapidly and hard, as from running

to move, giving forth puffs: with away, out, in, etc.
to come in puffs, as smoke

to fill (out or up), as with air
to become inflated, as with pride: with out or up
to swell (out or up), as skin tissue

to take a puff or puffs at a cigarette, pipe, etc.
Origin: ME puffen < OE pyffan, of echoic orig.
transitive verb
to blow, drive, give forth, etc. in or with a puff or puffs
to swell; distend; inflate
to praise unduly
to write or print a puff of: to puff a novel
to smoke (a cigarette, pipe, etc.)
to set (the hair) in soft, round masses or rolls
Webster's New World College Dictionary Copyright © 2010 by Wiley Publishing, Inc., Cleveland, Ohio. Used by arrangement with John Wiley & Sons, Inc.
---
puff definition by American Heritage Dictionary
noun
a. A short forceful exhalation of breath.

b. A short sudden gust of wind.

c. A brief sudden emission of air, vapor, or smoke.

d. A short sibilant sound produced by a puff.

An amount of vapor, smoke, or similar material released in a puff.
An act of drawing in and expelling the breath, as in smoking tobacco.
A swelling or rounded protuberance.
Puff pastry.
A light soft pad for applying powder or lotion.
A gathered, protruding portion of fabric.
A light padded bed covering.

a. An approving or flattering recommendation.

b. A piece of writing, as on the jacket of a book, containing often exaggerated praise, used for promotional purposes.

Genetics A localized region of swelling in certain chromosomes indicating the active synthesis of RNA.
verb
puffed
,
puff·ing
,
puffs
verb
, intransitive
To blow in puffs.
To come forth in puffs: steam puffing from an engine.
To breathe forcefully and rapidly: huffed and puffed up the stairs.
To emit puffs.
To take puffs on smoking material: puffing on a cigar.
To swell or seem to swell, as with pride or air. Often used with up: He puffed up and glared at the importuning questioner.
verb
, transitive
To emit or give forth in puffs.
To impel with puffs.
To smoke (a cigar, for example).
To inflate or distend.
To fill with pride or conceit.
To publicize with often exaggerated praise: publishers who puff their new books.
Origin: From Middle English puffen, to puff, from Old English pyffan, perhaps of imitative origin.
Related Forms: