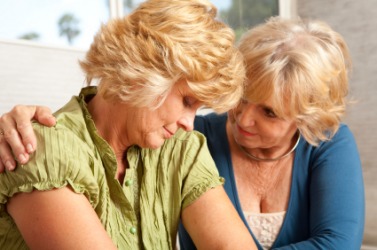 One woman comforts another.
noun
The definition of comfort is relief and encouragement or is a person who provides this for another.

An example of comfort is someone knowing that all of their monthly bills have been paid.
verb
Comfort means to give a sense of peace to someone.

An example of comfort is giving a sad friend a big hug.
---
comfort
to soothe in distress or sorrow; ease the misery or grief of; bring consolation or hope to
to give a sense of ease to

Law

to help; aid
Origin of comfort
Middle English
comforten
from Old French
conforter,
to comfort from Late Latin (esp. in Vulgate of Old Testament )
confortare,
to strengthen much from Classical Latin
com-,
intensive +
fortis,
strong: see fort
aid; encouragement: now only in

aid and comfort

relief from distress, grief, etc.; consolation
a person or thing that comforts
a state of ease and quiet enjoyment, free from worry, pain, or trouble
anything that makes life easy or comfortable
a quilted bed covering; comforter
---
comfort
transitive verb
com·fort·ed, com·fort·ing, com·forts
To soothe in time of affliction or distress.
To ease physically; relieve: comforted the feverish patient with a cool cloth.
noun
a. A condition or feeling of pleasurable physical ease or relief from pain or stress: finally sat in comfort on the soft pillows.

b. A condition of well-being, contentment, and security: an income that allowed them to live in comfort.

a. Solace or consolation in time of sorrow or distress: soothing words of comfort.

b. Help; assistance: gave comfort to the enemy.

a. Something providing ease, convenience, or security: the comforts of modern living.

b. A person or thing that brings consolation or mental ease: a friend who was a comfort to me in my grief.

Chiefly Southern & Lower Northern US A quilted bedcover; a comforter.
Origin of comfort
Middle English
comforten
from
Old French
conforter
to strengthen
from
Late Latin
cōnfortāre
Latin
com-
intensive pref.
; see
com-
. Latin
fortis
strong
; see
bhergh-
2
in Indo-European roots.
Related Forms:
---
comfort

Noun
(plural comforts)
Contentment, ease.

Sleep in comfort with our new mattress.

Something that offers comfort.

the comforts of home

A consolation; something relieving suffering or worry.

We still have the spare tire? That's a comfort at least.

A cause of relief or satisfaction.

The outcome of the peace negotiations in Moscow in 1940 was a heavy blow to the young nation, but in the same time a great comfort: at least the independency was preserved.
Verb
(third-person singular simple present comforts, present participle comforting, simple past and past participle comforted)
To relieve the distress or suffering of; to provide comfort to.

Rob comforted Aaron because he was lost and very sad.

To make comfortable.
---