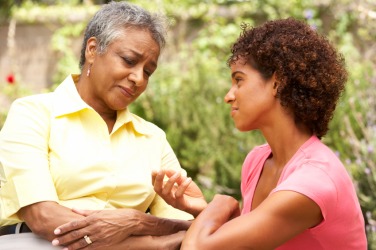 A woman gives solace to a friend.
noun
The definition of solace is a decline in grief, or consolation.

When you go see a friend who is feeling sad and you offer comfort and listen to your friend talk about his problems, this is an example of giving solace.
---
solace
an easing of grief, loneliness, discomfort, etc.
something that eases or relieves; comfort; consolation; relief
Origin of solace
Middle English from Old French
solaz
from Classical Latin
solacium
from
solari
, to comfort from Indo-European base an unverified form
sel-
, favorable, in good spirits from source silly
transitive verb
-·aced

,

-·ac·ing
to give solace to; comfort; console
to lessen or allay (grief, sorrow, etc.)
---
solace
noun
Comfort in sorrow, misfortune, or distress; consolation.
A source of comfort or consolation.
transitive verb
sol·aced, sol·ac·ing, sol·ac·es
To comfort, cheer, or console, as in trouble or sorrow. See Synonyms at comfort.
To allay or assuage: "They solaced their wretchedness, however, by duets after supper" ( Jane Austen )
Origin of solace
Middle English
solas
from
Old French
from
Latin
sōlācium
from
sōlārī
to console
Related Forms:
---
solace

Verb
(third-person singular simple present solaces, present participle solacing, simple past and past participle solaced)
Origin
From Old French solas, from Latin sōlācium ("consolation")
---