noun
The definition of a console is a storage compartment or cabinet.

An example of console is where people store items in their car.
verb
Console means to comfort someone.

An example of console is visiting with a friend whose husband has just left her for another woman.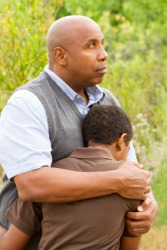 A father consoles his son.
---
console definition by Webster's New World
noun
an ornamental bracket for supporting a shelf, bust, cornice, etc.
console table
the desklike frame containing the keys, stops, pedals, and other controls of an organ
a radio, television, or phonograph cabinet designed to stand on the floor
☆ an instrument panel or unit, containing gauges and the controls for operating aircraft, automobiles, computers, and other electrical or electronic systems
a raised portion between bucket seats in an automobile, containing storage compartments, switches and controls, etc.
Origin: French probably contr. ; from consolateur, literally , one who consoles (see console); name for carved figures supporting cornices or as rails in choir stalls (sense development analogous to misericord, sense )
Webster's New World College Dictionary Copyright © 2010 by Wiley Publishing, Inc., Cleveland, Ohio. Used by arrangement with John Wiley & Sons, Inc.
---
console definition by American Heritage Dictionary
transitive verb
con·soled
,
con·sol·ing
,
con·soles
To allay the sorrow or grief of. See Synonyms at
comfort
.
Origin: French consoler, from Old French, from Latin cōnsōlārī : com-, intensive pref.; see com- + sōlārī, to comfort.
Related Forms:
con·soˈla·toˌry

adjective
noun
a. A cabinet for a radio, television set, or phonograph, designed to stand on the floor.

b. A small freestanding storage cabinet.

Music The desklike part of an organ that contains the keyboard, stops, and pedals.

a. A central control panel for a mechanical, electrical, or electronic system.

b. An instrument panel.

The portion of a computer or peripheral that houses the apparatus used to operate the machine manually and provides a means of communication between the computer operator and the central processing unit, often in the form of a keyboard.
A small storage compartment mounted between bucket seats in an automobile.
An often scroll-shaped bracket used for decoration or for supporting a projecting member, such as a cornice or shelf.
A console table.
Origin: French, perhaps short for consolider, to strengthen, from Latin cōnsolidāre; see consolidate.
The American Heritage® Dictionary of the English Language, 4th edition Copyright © 2010 by Houghton Mifflin Harcourt Publishing Company. Published by Houghton Mifflin Harcourt Publishing Company. All rights reserved.
---
console - Computer Definition
A control unit or terminal, including a display and keyboard, that an operator or administrator uses to communicate with and control a computer system such as a central office (CO), PBX, or general-purpose computer.
The keyboard and display components of a personal computer (PC), or microcomputer.
A program interface for managing networks or software, or a terminal consisting of a computer monitor and a computer keyboard.
(1) The physical control panel on a computer or electronic device.
(2) A game machine. See video game console.
(3) A terminal or desktop computer used to monitor and control a network.
(4) Any display terminal.
(5) The user interface on any monitoring, management or control system. See Microsoft Management Console, HMI and OI.