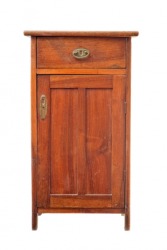 An old wooden cabinet.
noun
The definition of a cabinet is a cupboard used for holding or storing things, or a group of advisors.

An example of a cabinet is where you keep the cups in your kitchen.
An example of a cabinet is the group of senior federal officials that advises the U.S. President.
---
cabinet
a case or cupboard with drawers or shelves for holding or storing things: a china cabinet, a medicine cabinet

a boxlike container, usually decorated, that houses all the assembled components of a record player, radio or television, etc.
a boxlike container for a speaker (sense )

Archaic

a private council room
a meeting held there

[oftenC-] a body of official advisors to a president, king, governor, etc.: in the U.S., composed of the heads of the various governmental departments

Archaic

a small, private room
Origin of cabinet
Fr, probably from Italian
gabbinetto
, diminutive of
gabbia
from Classical Latin
cavea
, cage
of a kind usually displayed in cabinets: cabinet curios
of or made by a cabinetmaker
of a political cabinet
---
cabinet
noun
An upright, cupboardlike repository with shelves, drawers, or compartments for the safekeeping or display of objects.
Computers The box that houses the main components of a computer, such as the central processing unit, disk drives, and expansion slots.
often Cabinet A body of persons appointed by a head of state or a prime minister to head the executive departments of the government and to act as official advisers.
Archaic A small or private room set aside for a specific activity.
Rhode Island & Southeastern Massachusetts See milkshake.
adjective
Suitable for storage or display in a cabinet, as because of size or decorative quality.
Of, relating to, or being a member of a governmental cabinet: cabinet matters; a cabinet minister.
Used in the making of cabinets: teak and other heavy cabinet wood.
Origin of cabinet
French
partly from diminutive of
Old North French
cabine
gambling-room
(
perhaps alteration of
Old French
cabane
small house
; see
cabin
. )
and partly from
Italian
gabinetto
closet, chest of drawers
Old North French
cabine
N., sense 5, possibly from the square wooden container in which the mixer was encased
Related Forms:
---
cabinet

---
cabinet - Computer Definition
---