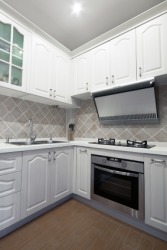 White kitchen cabinets.
---
Kitchen Cabinet
a cabinet or cupboard in a kitchen
☆

the group of unofficial advisors on whom President Jackson relied
any similar group on whom a governmental head relies
---
Kitchen Cabinet
noun
A group of unofficial advisers to the head of a government.
Origin of kitchen cabinet
From the story that President Andrew Jackson met with his unofficial cabinet in the White House kitchen
.
---
Kitchen Cabinet
---
Kitchen Cabinet
Variant of kitchen cabinet
a cabinet or cupboard in a kitchen
☆

the group of unofficial advisors on whom President Jackson relied
any similar group on whom a governmental head relies