speaker

speak·er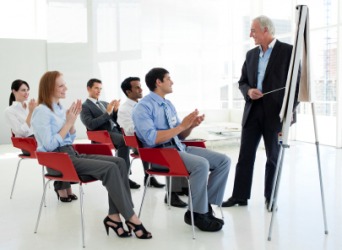 The speaker at a business conference.
noun
Speaker is defined as an electrical device used to make sound or music louder.

An example of speaker is how music is listened to in a car.

The definition of a speaker is a spokesperson or a person giving a speech.

An example of speaker is the person who people have gathered around to hear talk about something.
---
speaker
a person who speaks; esp.,

a person who makes a speech or speeches in public
the officer presiding over any of various lawmaking bodies
[S-] the presiding officer of the U.S. House of Representatives

in full

Speaker of the House

Origin of speaker

(loud)speaker

a device consisting of a magnet and a diaphragm of paper, plastic, etc., for converting electrical signals to sound waves that are radiated into the air
a boxlike enclosure holding one or more such devices
---
speaker
noun
a. One who speaks.

b. A spokesperson.

One who delivers a public speech.
often Speaker The presiding officer of a legislative assembly.
The person, sometimes the actual writer but often an assumed character, who is imagined as the source of the words or ideas expressed in a poem.
A device that converts electric signals to audible sound.
Related Forms:
---
speaker

Noun
(plural speakers)
One who speaks.

A native English speaker.

(politics) The chair or presiding officer of certain legislative bodies, such as the U.K. House of Commons or the U.S. House of Representatives.
One who makes a speech to an audience.

The company hired a motivational speaker to boost morale.
---
speaker - Computer Definition

A device containing a transducer that converts electrical signals (electric current) into sound waves (acoustic energy) for the production of sound. See also acoustics, current, microphone, and transducer.
---
A device that converts analog audio signals into the equivalent air vibrations in order to make audible sound. When CRT monitors were the norm, speakers designed for computers were shielded to avoid magnetic interference with the CRT's magnetic coil. Getting Smaller All the Time Starting in the 1990s, vendors began to offer higher-quality computer speakers. Similar to home theater and stereo systems, the systems include a pair of small speakers for the midrange and high (treble) frequencies and a large subwoofer for the low end (bass). The small speakers are placed in a left/right stereo orientation, while the subwoofer can be located anywhere on the floor because bass signals are omnidirectional. See sound card, Bluetooth speaker, parametric speaker and subwoofer.
---