noun
The definition of a speaker is a spokesperson or a person giving a speech.

An example of speaker is the person who people have gathered around to hear talk about something.

Speaker is defined as an electrical device used to make sound or music louder.

An example of speaker is how music is listened to in a car.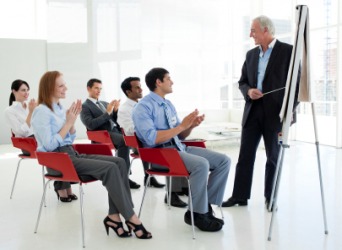 The speaker at a business conference.
---
Speaker definition by Webster's New World
noun
a person who speaks; esp.,

a person who makes a speech or speeches in public
the officer presiding over any of various lawmaking bodies
☆ the presiding officer of the U.S. House of Representatives

☆ a book of selections for use as exercises in declamation

a device consisting of a magnet and a diaphragm of paper, plastic, etc., for converting electrical signals to sound waves that are radiated into the air
a boxlike enclosure holding one or more such devices
Webster's New World College Dictionary Copyright © 2010 by Wiley Publishing, Inc., Cleveland, Ohio. Used by arrangement with John Wiley & Sons, Inc.
---
Speaker definition by American Heritage Dictionary
noun
a. One who speaks.

b. A spokesperson.

One who delivers a public speech.
often Speaker The presiding officer of a legislative assembly.
A loudspeaker.
Related Forms:
, Tristram Known as "Tris." 1888-1958.
American baseball player who earned a career batting average of .344 playing with the Boston Red Sox (1907-1915) and the Cleveland Indians (1916-1926).
The American Heritage® Dictionary of the English Language, 4th edition Copyright © 2010 by Houghton Mifflin Harcourt Publishing Company. Published by Houghton Mifflin Harcourt Publishing Company. All rights reserved.
---
speaker - Computer Definition
A device containing a transducer that converts electrical signals (electric current) into sound waves (acoustic energy) for the production of sound. See also acoustics, current, microphone, and transducer.
A device that converts analog audio signals into the equivalent air vibrations in order to make audible sound. Although CRT usage has faded, speakers designed for computers are shielded to avoid magnetic interference with the CRT's magnetic coil. Getting Better All the Time Starting in the 1990s, vendors began to offer higher-quality computer speakers. Similar to home theater and stereo systems, many computer speaker systems include a pair of small speakers for the midrange and high (treble) frequencies and a large subwoofer for the low end (bass). The small speakers are placed in a left/right stereo orientation, while the subwoofer can be located anywhere on the floor because bass signals are omnidirectional. See sound card and subwoofer.
Speaker
Variant of speaker
noun
a person who speaks; esp.,

a person who makes a speech or speeches in public
the officer presiding over any of various lawmaking bodies
☆ the presiding officer of the U.S. House of Representatives

☆ a book of selections for use as exercises in declamation

a device consisting of a magnet and a diaphragm of paper, plastic, etc., for converting electrical signals to sound waves that are radiated into the air
a boxlike enclosure holding one or more such devices