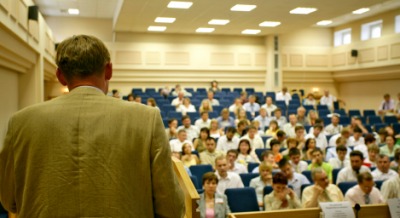 A group of people listening to a lecturer.
noun
The definition of a lecturer is a person who gives speeches and presentations, often as part of his or her profession.

An example of a lecturer is a junior level college professor who does not have tenure.
---
lecturer
a person who gives lectures, esp. by profession or in connection with teaching duties: sometimes used as an academic title for one who teaches at a college or university but does not have the rank or tenure of a regular faculty member
---
lecturer
noun
One who delivers lectures, especially professionally.

a. A member of the faculty of a college or university usually having qualified status without rank or tenure.

b. A faculty member ranking below an assistant professor.

c. The academic rank held by such a faculty member.

Chiefly British A university teacher, especially one ranking next below a reader.
---
lecturer

---