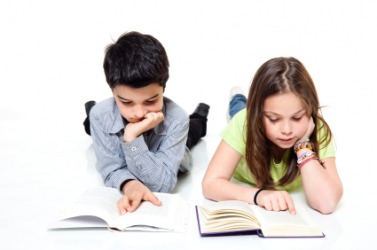 A pair of young readers.
---
reader
noun
a person who reads
a person appointed or elected to read lessons, prayers, etc. aloud in church
a person who reads and evaluates manuscripts for a publication
a person who records the readings of meters, etc., as for a public utilities company

a schoolbook containing stories, poems, etc. for use in teaching how to read
an anthology or omnibus

Brit.

a university teacher ranking below a professor: approximately equivalent to an associate professor in the U.S.
an assistant who reads and marks examinations, themes, etc. for a professor
☆ a magnifying device for viewing microfilm or microfiche
one who reads, or interprets, lines in the palm of a hand, tea-leaf patterns, horoscopes, etc., as to predict the future
---
reader
noun
A person who reads, especially:

a. A person who regularly reads certain material: a reader of crime novels.

c. A person employed by a publisher to read and evaluate manuscripts.

d. One who corrects printers' proofs; a proofreader.

e. A teaching assistant who reads and grades examination papers.

Chiefly British A university teacher, especially one ranking next below a professor.

a. A textbook of reading exercises.

b. An anthology, especially a literary anthology.

Any of various devices that read or retrieve data from a storage device or credit card.
See e-reader.
---
reader
Noun
(plural Readers)
(religion) A person who is not ordained but is appointed to lead most services in the Anglican Church.
Usage notes
See reader (7) for usage in other denominations. The Anglican usage is the equivalent of lay reader, lay speaker, lay preacher and local preacher in other denominations.
---
reader - Computer Definition
A machine that captures data for the computer, such as an optical character reader, magnetic card reader and punch card reader. A microfiche or microfilm reader is a self-contained machine that reads film and displays its contents.
---