referee

ref·e·ree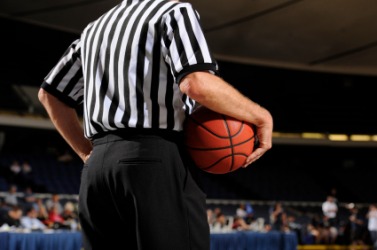 A basketball referee.
noun
The definition of a referee is a person who mediates or resolves a dispute, or is a person in a sporting event who monitors the teams and makes sure all rules are followed.

A parent who is continually breaking up disputes between his kids is an example of a referee for their disputes.
A person in a basketball game who watches the players and calls penalties when the rules are broken is an example of a referee.
---
referee
a person to whom something is referred for decision
an official who enforces the rules in certain sports contests; specif., the chief official in a football game

Law

a person appointed by a court to study, take testimony in, judge, and report on, a matter
an academic authority who examines and evaluates an article, book, etc. with regard to its fitness for publication

Brit.

a person, esp. one with good credentials, given as a reference in seeking employment
intransitive verb
-·eed′

,

-·ee′ing
to act as referee
to act as referee for (a game, sport, etc.) or regarding (a legal matter, scholarly article, etc.)
---
referee
noun
One to whom something is referred, especially for settlement, decision, or an opinion as to the thing's quality.
Sports & Games An official supervising the play; an umpire.
Law A person appointed by a court to assist a judge in the trying of a case or to hear certain types of cases.
verb
ref·e·reed, ref·e·ree·ing, ref·e·rees
verb
transitive
To judge as referee.
verb
intransitive
To act as referee.
---
referee

Noun
(plural referees)
A person who writes a letter of reference or provides a reference by phone call for someone
An expert who judges the manuscript of an article or book to decide if it should be published
Usage notes
In general, a referee moves around with the game, while an umpire stays (approximately) in one place.
Verb
(third-person singular simple present referees, present participle refereeing, simple past and past participle refereed)
To act as a referee.
---
referee - Legal Definition
n
A quasijudicial master appointed by a court to assist with a specific matter, and who in certain jurisdictions is permitted to take testimony and determine factual issues that, eventually, are reported back to the court for judgment. See also
master
.
---