adjective
Lime means a greenish-yellow color.

An example of lime is the stone peridot.
noun
Lime is defined as calcium oxide, a white substance that produces heat energy and is used to make cement and as a soil additive.

An example of lime is the powder added to mortar to increase the strength and durability of the bond.
An example of lime is the material added to soil to increase the pH.

The definition of a lime is a greenish-colored citrus fruit with sour juice and pulp.

An example of lime is the juice that is added to gin to create the gimlet cocktail.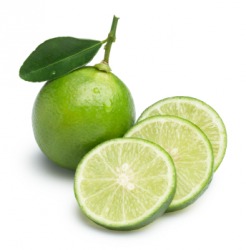 A whole lime with slices.
---
lime definition by Webster's New World
noun
birdlime
a white substance, calcium oxide, CaO, obtained by the action of heat on limestone, shells, and other material containing calcium carbonate, and used in making mortar and cement, and, when hydrated, in neutralizing acid soil
a calcareous deposit from water inside pipes, pans, etc.
Origin: Middle English ; from Old English līm, akin to German leim ; from Indo-European base an unverified form (s)lei-, slime, wet and sticky, to smooth over from source Classical Greek leios, smooth, Classical Latin limus, slime, mud, linere, to smear, levis, smooth, Old English lam, clay
noun
a small, lemon-shaped, greenish-yellow citrus fruit with a juicy, sour pulp, rich in ascorbic acid
the small, thorny, semitropical citrus tree (Citrus aurantifolia) that it grows on, originally native to S Asia
greenish yellow
Origin: French ; from Provençal limo ; from Arabic līmaḥ ; from līm, citrus fruit from source lemon
adjective
made with or of limes
having a flavor like that of limes
greenish-yellow
noun
linden
Origin: ; from earlier line ; from Middle English lind: see linden
Webster's New World College Dictionary Copyright © 2010 by Wiley Publishing, Inc., Cleveland, Ohio. Used by arrangement with John Wiley & Sons, Inc.
---
lime definition by American Heritage Dictionary
noun
A spiny evergreen shrub or tree (Citrus aurantifolia), native to Asia and having leathery leaves, fragrant white flowers, and edible fruit.
The egg-shaped fruit of this plant, having a green rind and acid juice used as flavoring.
Origin: Probably French from Spanish lima, from Arabic līma, līm, probably from līmūn, lemon; see lemon.
noun
Origin: Alteration of Middle English lind, line, from Old English lind.
noun
b. Any of various mineral and industrial forms of calcium oxide differing chiefly in water content and percentage of constituents such as silica, alumina, and iron. Also called quicklime.

Birdlime.
transitive verb
limed
limed
,
lim·ing
,
limes
To treat with lime.
To smear with birdlime.
To catch or snare with or as if with birdlime.
Origin: Middle English lim, from Old English līm, birdlime; see lei- in Indo-European roots.
Related Forms:
The American Heritage® Dictionary of the English Language, 4th edition Copyright © 2010 by Houghton Mifflin Harcourt Publishing Company. Published by Houghton Mifflin Harcourt Publishing Company. All rights reserved.
---
lime - Science Definition
A white, lumpy, caustic powder made of calcium oxide sometimes mixed with other chemicals. It is made industrially by heating limestone, bones, or shells. Lime is used as an industrial alkali, in waste treatment, and in making glass, paper, steel, insecticides, and building plaster. It is also added to soil to lower its acidity.